Growing up I don't remember three times in my youth that I ate beets. I don't think that my mom liked them very much or maybe after torturing us with brussel sprouts, braised cabbage, and black eyed peas she gave us a break. As an adult I discovered that other than okra, vegetables were so amazing, and that beets were the one thing I really missed having often. When I started my garden I knew that I wanted to grow beets, several varieties, and take care to harvest and replant so I was able to enjoy them homegrown.
One of my favorite ways to prepare them is pickling now that I am canning and with a little onion, mustard seed and cinnamon they are the perfect snack. One of my favorite salads is red or golden pickled beets chopped down a bit and added to an arugula or mixed green salad topped with crumbled goat cheese, candied walnuts, with a light olive oil dressing.
While making a previous version of red beets I discovered how messy they can be once they are roasted and need to be peeled. The trick is to roast them with the taproot and top of the beet (beet top) intact. This keeps the beets from bleeding everywhere. Once they cool you will be able to easily remove the skin without so much mess. The other option I have found is to grow the golden or albino beets which are light in color but still have the great flavor.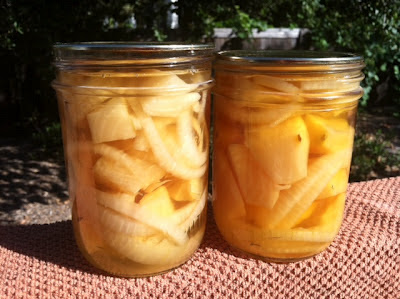 Pickled Beets
Here is my pickled golden beets and the recipe so you can put up some great flavors in a jar.
Ingredients
3

pounds

small (2 inch diameter) whole beets

Kosher salt

2

cups

vinegar

1

cup

water

1/2

cup

sugar

1/2

pc.

medium onion thickly sliced

1 1/2

inch

cinnamon stick

1

T.

mustard seed
Instructions
Preparation:

Roasting Beets to pre-cook

Preheat oven to 375° F. In a small roasting dish pour a layer of kosher salt at the bottom.  Place the beets on top of the salt in one layer. Roast until fork-tender, about 30 minutes. I learned this trick from Rachel Ray's show.

Remove skin and cut beets into chunks. Combine sugar, vinegar, and water into large saucepan. Boil over high heat stirring occasionally.

In hot jars place 1/2 cinnamon stick and a pinch of the mustard seed to the bottom of each jar. Pack beets and onion into jars.

Pour hot liquid over beets to within 1/2" headspace. Process 30 minutes for half pints, pints, or quarts.