Last season we had more of these little beauties than I could possibly can. This year the trees are bare and did not produce anything. Working with this little citrus can be time consuming getting out the seeds but using them in dessert recipes whole is a special treat for those who are lucky enough to get them.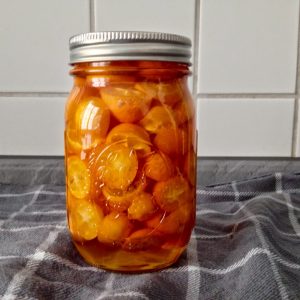 Candied Kumquats
Ingredients
Makes about 4 half pints.

6

cups

kumquats -measured whole

4

cups

granulated sugar 

4

cups

cold water
Instructions
Day 1:
Wash the kumquats in a sink full of water.  Take a thin slice off the ends of each kumquat, then slice it into slices. Toss the ends (they will make it bitter). Pick out as many seeds as you can find as you cut them.

Put the fruit and water in a large nonreactive bowl and stir gently to combine. Cover and let stand for about 12 hours or overnight.
Day 2:
Drain the kumquats and cook in a dutch oven or stainless steel pot on medium heat for 15 minutes. Adding the sugar until fruit is quite tender.

Continue to cook the mixture at a  boil till the mixture reaches 220 degrees or until the syrup gells when tested. (see sheet or freezer plate method on the front page of this site at the bottom).

At this point you can either mix with an immersion blender or keep the slices in the jam.
Ladle into hot jars.
(Don't forget to take out the air and wipe the rims down before you put on the hot lids and rings).

Water bath at boiling for 10 minutes. Let sit on the counter on a dish towel till room temperature... Make sure your lids have sealed!