Just a quick post to add a great recipe for the upcoming season of beautiful green beans. One of my dad's favorite snacks is my Dilly beans. Rebecca, a fantastic photographer from my FB page has put up a great batch of Dilled Green Beans from the recipe in The Ball Complete Book of Home Preserving. She made an adaptations since she did not have yellow wax beans she did all in green beans.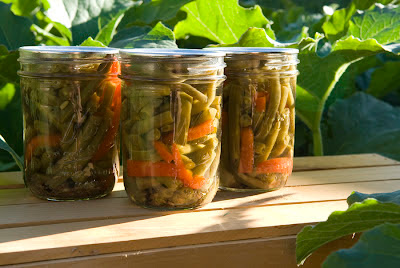 Dilled Green Beans
Dilled Green Beans
Ingredients
3

tbsp

pickling or canning salt (kosher salt will also work)

3

cups

white vinegar

3

cups

water

2 1/4

lbs

green beans, trimmed and cut into jar-sized pieces

2 1/4

lbs

yellow beans, trimmed and cut into jar-sized pieces

3

pc.

small red bell peppers, seeded and sliced into thin strips

18

pc.

whole black peppercorns

6

sprigs

fresh dill

6

cloves

garlic
Instructions
Prepare canner, jars and lids.

In a large stainless steel saucepan combine salt, vinegar and water. Bring to a boil over medium-high heat, stirring to dissolve salt.

Add green and yellow beans and red peppers. Return to a boil. Remove from heat.

Place 3 peppercorns, 1 sprig of dill, and 1 clove of garlic in each hot jar. Pack beans and pepper strips into hot jars to within a generous 1/2 in. of top of jar.

Ladle hot pickling liquid into to jar to cover everything, leaving 1/2 in. headspace. Remove air bubbles and adjust headspace, if you need to, by adding more liquid.

Wipe rim. Center lid on jar, and screw band down until fingertip-tight.

Place jars in canner, ensuring they're completely covered with water.

Bring to a boil and process for 10 minutes. Remove canner lid. Wait 5 minutes, then remove jars, cool, and store.

Additional note: Make sure your brine comes to a boil then add the beans since they should only be in the brine a minute or two.