One of the most popular and sought after recipes has to be ways to make your fruity cocktail drink into a jam.
When I saw Darcie's post about making a Pineapple Jam and she was using Coconut flavored rum, Was it possible to make the Pina Colada into a reality? I don't drink often enough to even know that there was a coconut flavored alcohol without cream. But she did it and I was so excited for the recipe.
From Darcie: "I really like the lime juice in it. It calms the sweetnessdown and makes it a little more interesting."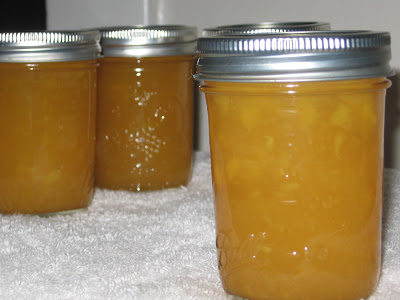 Pina Colada Jam
Pina Colada, Strawberry Daiquiri, Strawberry Margarita, and one of my favorite requests, a Fuzzy Navel (peach schapps & Orange juice). 
Ingredients
3

cups

crushed pineapple **

1/2

cup

orange juice

1/4

cup

lime juice

1/2

cup

coconut rum

1/2

cups

sugar

3

tablespoons

Ball flex-batch Classic pectin
Instructions
Preparation:
Mix pineapple, orange juice, lime juice and coconut rum in large stockpot. Gradually stir in pectin.

Over high heat, bring to a boil that can't be stirred down. Add sugar all at once. Stir to dissolve. Return to boil. Boil hard for one minute.

Ladle into hot, sterilized jars with ¼ inch headspace. Wipe rims. Add heated lid.

Screw on ring, making it finger tight. Process in boiling water bath for 10 minutes.

**To get 3 cups pineapple: Cut of the top and bottom of onelarge pineapple. Trim off the outside taking care to remove all the eyes. Coreand cut in chunks. Crush in food processor. (Next time I would just pulse itfor a little chunkier jam. I had it running on low as I was putting the piecesin, and some of it was more pureed than crushed.)