Since berry season is very close I was browsing through some online sites looking for some inspiration for uses in canning. Strawberries usually come first in the season from the farms, but I found some frozen blackberries on sale and thought I would look first for a recipe then decide if it was good enough to make the purchase.
For me finding inspiration isn't difficult when it comes to new recipes to help Troy, my husband, infuse flavor into his barbecuing. He loves to add rubs, dry or wet, to his meats or chicken, and any new sauce will get him excited about "cooking outdoors". I came across the Driscols site which is a farm that sells "all things berry". They have a recipe tab and a picture of a Blackberry Chipotle Glaze next to some pork ribs and that caught my eye. With a bit of adaptation to the balsamic vinegar the glaze is an amazing addition to my canning pantry. Next time I make it I will add more chipotle peppers since it was mild but still had the smoky flavor.  I am looking forward to Troy making some amazing pork ribs with this glaze over the summer!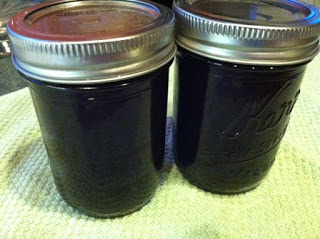 Blackberry Chipotle Glaze
The Glaze seemed like a very easy recipe but a bit short on the acidity.
Ingredients
1

teaspoon

olive oil

1

cup

diced onion

3

cloves

garlic, chopped

1

tablespoon

chopped chipotle chilies in adobo, seeds removed

3

packages

(6 ounces each) Driscoll's Blackberries (I used 5 cups frozen - thawed and drained)

3/4

cups

balsamic vinegar

1/2

cups

sugar

1

teaspoon

salt
Instructions
Heat oil in a medium saucepan over medium-high heat and cook onions 4 minutes or until soft. Add garlic and cook 1 minute.

Stir in chipotle chilies and cook 1 minute, stirring constantly. Add blackberries, vinegar, sugar and salt, stir until blended. Bring to a boil, stirring frequently.

Reduce heat to low and simmer 35 minutes or until reduced to 1 1/2 cups. Remove from heat.

Pour into blender or food processor and puree until smooth. Strain mixture to remove seeds. Return to heat and reduce for another 10 minutes.

Ladle into 2 half pint sterilized jars leaving 1/4 headspace. Wipe rims with a wet papertowel and add hot lids/rings. Process in water bath for 15 minutes at a full boil.