As my facebook group continues to can it's way through the Better Homes and Garden Canning Magazine there are some things that I just don't have growing in my garden to make in these recipes. My husband and I are not doing very well, not even close to stellar, in our attempt to grow the elusive green bean. We made a successful attempt at Favas this year and they are all tucked away in the freezer.
The recipe uses a combination of yellow and green beans and adds the peel of a lemon and bay leaves as a unique flavor to the classic brine; almost equal parts water and vinegar, and a bit of sugar to cut the tartness. I was excited to see that Whitney on my FB page had decided to give the recipe a try and was also gracious enough to let me use her photo to share.
Whitney found the recipe pretty easy. "After I trimmed all those green beans and put them in the pot, I was sure there was no way they were going to fit in four jars, but they did. That's a lot of green beans! I think the yellow beans would be really pretty too, but soooo not available in my tiny town.", Whitney explained. I copied this quote from her comment because sometime I forget how blessed I am that I live in a town that has a farmers market and some of the best year round growing conditions in the country. Tiny town or not, thank you Whitney for sharing your experience with me.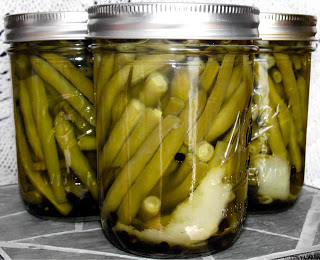 Lemon-and-Bay Leaf Bean Pickles
One of the recipes I found very intriguing was the Lemon and Bay Leaf Bean Pickles.
Ingredients
2

cups

white vinegar (5% acidity)

1/2

cup

sugar

1/3

cup

bottled lemon juice

1

T.

pickling salt

2 1/4

pounds

pounds fresh green and/or yellow beans, trimmed (11 cups)

8

pc.

bay leaves

4

t.

whole black peppercorns (red ones would be fun for color)

8

strips

lemon peel
Instructions
In a 6 to 8 quart stainless-steel enamel or nonstick heavy pot, combine the water, vinegar, sugar, lemon juice, and salt.

Bring to a boiling over medium high heat, stirring constantly until sugar and salt dissolve. Add beans, return to boiling. Boil for 1 minute.

Drain beans, reserving the liquid. Return reserved liquid to the pot. Return to a simmer, cover.

Pack hot beans lengthwise into four hot sterilized pint jars, adding two of the bay leaves, 1 teaspoon of the peppercorns and two strips of the lemon peel to each jar.

Pour boiling liquid over beans in jars leaving 1/2 inch headspace. Remove any air bubbles from jars and fill to headspace if needed.

Process filled jars in a boiling water canner for 10 minutes(start timing when water returns to boiling).

The note in the preface of the recipe says: "Although they're good just for munching these citrusy pickled green beans also provide a superb garnish for a spicy bloody mary".