I didn't get as many recipes done that I had planned for this weekend but I did get time this afternoon to put together the requested recipe for Diana of Vegetable Beef Soup. My husband caught a nasty cold yesterday and this was the perfect meal for him to "steam out" and feel better.
The preparation was easy and this is the perfect recipe to use your jars of already prepared  ingredients from your canning pantry. I used two pints of my beef stock and two pints of my diced tomatoes for this recipe. I also want to encourage you to purchase an inexpensive cut of meat that doesn't have a lot of fat. The round steak was on sale and since it will cook in the canner for 75 minutes you can be assured that it will be fork tender when you finally open the jar.
We had this soup for dinner with homemade bread and it was delicious. The vegetables were tender, the potatoes were creamy, the meat was fork tender, and the addition of Renee's Italian blend,  which had fennel in it, gave a few bites a unexpected tasty surprise.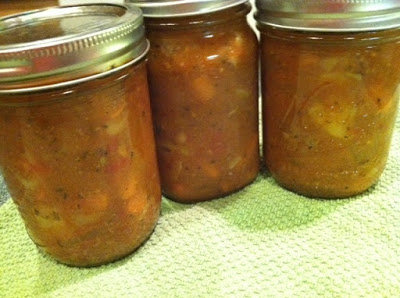 Vegetable Beef Soup
This recipe is a hearty soup with all of the savory tomato flavor and warmth for the cold winter nights. Enjoy! 
Ingredients
1 1/2

pounds

stew beef, cubed ( I used an inexpensive round steak)

4

cups

beef broth (I used two pints of my home made beef stock)

1

cup

onion, chopped

3

pc.

carrots, peeled and sliced

1

cup

celery, sliced (I omitted)

2

pc.

large potatoes, peeled and cubed

28

ounces

canned tomatoes (I used two pints of my home canned tomatoes)

1

tablespoon

sugar

2

teaspoons

salt, or to taste

1/2

teaspoon

freshly ground black pepper, or to taste

1 1/2

teaspoon

Italian seasoning mix (Renee's blend) or 1/2 teaspoon crushed rosemary

1/2

teaspoon

crushed rosemary

1/2

teaspoon

ground thyme

1/2

teaspoon

ground marjoram

1

cup

frozen peas, optional
Instructions
Preparation:
Prepare 6 - 7 pint jars, lids, and rings. Sterilize the jars and keep them in the hot water till its time for processing. Make sure to fill your pressure canner up to the "fill" line and get the water to a simmer.
Cooking:
In a stainless steel or enameled dutch oven brown meat quickly using a tiny bit of olive oil just so the meat won't stick to the bottom of the pot.

Add to the pot the rest of the ingredients and cook on medium hight for 10 minutes only just to combine the broth and spices! Turn off the heat. Ladle. 
Filling the jars:
On a dishtowel place your hot jars in a semi circle leaving room for your pot that has your recipe.

Using your slotted spoon ladle the meat and veggies into the jar filling only half way then add the soup liquid into the jars leaving 1" headspace.

Start from the top of the semi circle and work your way to the end. Remove air bubbles and refill to the proper headspace if necessary.

Remove your recipe and taking a clean papertowel and wipe the rims of the jars with white vinegar removing any food particles that would interfere with a good seal.

Using your magic wand extract the lids from the hot water and place them on the now cleaned rims. Add your rings to the tops of each of the jars and turn to seal just "finger tight".