This is a guest post from Janice Berger who lives in Texas and is an avid canner and a good friend. She travels with her husband and you would be surprise what she has "put up" in her "make shift" hotel rooms as she carries her supplies in the trunk of their car. I admire her tenacity and drive to still make it happen on a portable burner.
The other day Janice emailed me with a recipe for pickled blueberries that she was interested in doing. The ingredients had a good balance and the acidity was more than adequate, but to my curiosity what could possibly be the finished flavor? A tangy sweet or a sour tart? This is what Janice told me about this recipe:
"2 day process, after the fruit has sat in the brine for 8-12 hours & drains, it goes really quick, very easy recipe the flavors are bold, sweet & spicy all at the same time. It pairs beautifully poured over goat cheese for an excellent appetizer. Because it is a pickled recipe, you might want to let the blueberries meld in their jars for about 2weeks before serving. IF you can wait that long! Buen Provecho!!"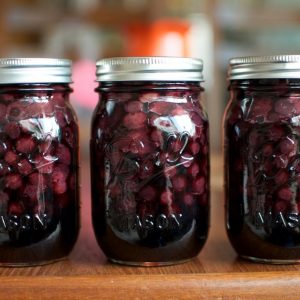 Pickled Blueberries
The recipe is somewhat reminiscent of the Marachino Cherries with kind of a "marinating" process to infuse the flavors.
Ingredients
3

inch

cinnamon sticks

1

teaspoon

whole cloves

1

teaspoon

whole allspice berries

1 1/2

cup

red wine vinegar

2

quarts

fresh blueberries, washed and picked over

1

cup

white sugar

1

cup

brown sugar
Instructions
Place the cinnamon sticks, cloves, and allspice berries onto the center of a 8 inch square piece of cheesecloth. Gather together the edges of the cheesecloth, and tie with kitchen twine to secure.

Place spice sachet into a large saucepan and pour in the vinegar. Bring to a simmer over medium heat; cook for 5 minutes.

Stir blueberries into the vinegar; cook until heated through, about 5 minutes. As the blueberries heat, gently shake the pot. Do not stir to avoid breaking the berries.

Remove from heat, cover, and let stand at room temperature for 8 to 12 hours.

Pour berries and liquid into a colander set over a bowl. Remove spice sachet.

Transfer berries to hot, sterilized canning jars; reserve the liquid. Return liquid to saucepan and place over high heat.

Stir in the white and brown sugars; bring to a boil. Boil until thickened, about 4 minutes.

Ladle hot syrup over berries, leaving 1/2 inch headspace. Wipe the rims of the jars with a moist paper towel to remove any food residue. Top with sterilized lids; screw on rings.

Place a rack in the bottom of a large stockpot and fill halfway with water. Bring to a boil over high heat, then carefully lower the jars into the pot. Leave a 2 inch space between the jars. Pour in more boiling water if necessary until the water level is at least 1 inch above the tops of the jars.

Bring the water to a full boil, cover the pot, and process for 15 minutes.