It has been a crazy first month of this new year 2012.
I have found that becoming more sustainable takes more than a day, a week, but in fact maybe a few years to not only teach yourself to not waste, be more recycle conscience, compost more, grow more, and buy less. Getting back to the way that our great great grandparents survived may take a bit longer. Learning how to make your own bread, cheese, and even make sausage and ground meats has not been quick. I think for me I want to understand scientifically why things like yeast and starter cultures work different for different flours and milks. In addition, I am still trying to get to understand my ability to age sausage at home to make salami, but the chemicals to do that keep getting in the way.
The one thing that I truly know is my ability to do canning and that for most of the foods that we eat fresh and those I can put up in jars,  we aren't doing to badly. So I wait with great anticipation for the days of winter to pass and for the start of spring to bring around again another great year of produce to make. Armed with now two years of history in the pantry I look forward to the jars that are now gone and miss the amazing flavors of the spring past. I want this year to be welcomed with new students anxious to grab a bit of the canning bug and watch and listen as their heads swirl with ideas when I tell them the types of foods that I am already storing for the year.
I decided that making a recipe that I thought sounded yummy was a well deserved treat for the last month of taking time for my dad. I missed working on my knife skills, reading a good recipe and watching it come together, ladling into my hot jars, and finally hearing the ping of a job well done. I did that for myself tonight on a quiet evening, frogs outside going crazy with the recent rain, and my hubby off to the symphony with my dad. My pot was filled with a chutney, sweet from the fruit and spicy from the cayenne, I finished feeling that pork at our dinner table would never be the same.
So I raise my glass to all the canners that follow me, read my posts, make my recipes, and chat with me till the wee hours of the night about our triumphs and tragedies. This site and my dedication to a more knowledgeable canning world is for you!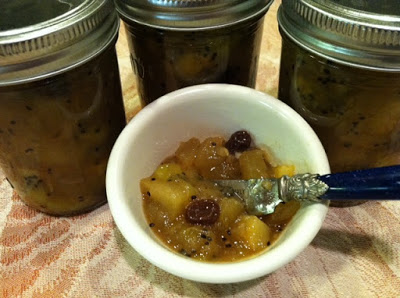 Spiced Kiwifruit Apple Chutney
Spiced Kiwifruit Apple Chutney
Ingredients
7

pc.

Kiwi Fruit, peeled and chopped (about 3 cups)

2

pc.

apples, peeled, cored, and chopped

1/4

cup

finely chopped red onion

3/4

cup

sugar

3/4

cup

cider vinegar

1/4

cup

brown sugar

1/3

cup

raisins

2

cloves

garlic, finely minced

1

t.

minced crystallized ginger

1/2

t.

each - cinnamon and yellow mustard seed

1/4

t.

each - cayenne pepper, ground cloves, nutmeg, and salt
Instructions
Combine kiwifruit, apples, red onion, sugar, vinegar, brown sugar, raisins, garlic, and crystallized ginger in a large stainless steel pot or enamel saucepan.

Bring to a boil over high heat, reduce heat and boil gently, uncovered for 25 minutes or until thickened and the fruit is tender, stirring occasionally.  Add cinnamon, mustard seeds, cayenne, cloves, nutmeg and salt, boil gently for a few minutes longer.

Ladle recipe into hot jars and fill to 1/2 inch headspace. Process in a water bath canner for 10 minutes for half pints and 15 minutes for pints.

(4 half pints or 2 pints) Adapted from The Complete Book of Small Batch Preserving