Here is the first of the three recipes I did yesterday while other canning friends worked on holiday recipes to give as gifts. It was an easy marmalade but a bit of patience is needed to wait for it to cook down for the two hours. The flavor of the tomatoes are mellow and love the citrus and ginger flavor that compliments this vibrant marmalade. Enjoy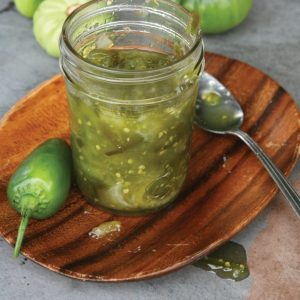 Green Tomato Marmalade
Ingredients
1

PC.

orange

1

lemon

1

cup

water

4

cups

green tomatoes, cut in small pieces

2

cups

cane sugar

3

T.

fresh ginger, minced
Instructions
Using a vegetable peeler, remove the top layer of rind from the oranges and lemon, being careful not to remove any of the pith. Sliver the rind. Set aside.

Remove the pulp from the orange and lemon.  Set pulp aside.

In a small saucepan, boil the slivered rind in 1 cup water for 5 minutes. 

Cut tomatoes into small pieces. Place the citrus rind and pulp, green tomatoes, sugar and ginger into the pot with rind and water.

Bring to a boil and then simmer uncovered for 2 hours or until the marmalade thickens, stirring occasionally.

Prepare jars, fill jars with hot marmalade, leaving a 1/4 inch head pace. Wipe the rims clean. Add hot lids/rings.

Process the jars in a boiling water bath for 10 minutes. Makes 2 1/2 cups.