Diana suggested this recipe after I received a bag of Meyer Lemons from my new friend Monica who came from Northern California for my cheese class last week. I searched briefly for some inspiration but liked the idea of doing another marmalade recipe and love the flavor of tarragon.
I adapted the recipe from Prospect: The Pantry by using dried tarragon and using more sugar as my lemon's were a bit too tart for the amount of sugar in the recipe. I liked the idea of doing a precook on the rinds and then refrigerating them overnight. I added the dried tarragon after the precook and the flavor was very present in the final jar.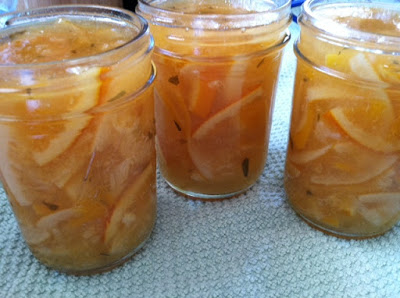 Meyer Lemon Marmalade with Tarragon
 Meyer Lemon Marmalade with Tarragon
Ingredients
6

pc.

Meyer lemons to make 3 cups sliced

1 3/4

cup

water (Approximately)

3

cups

sugar

2

t.

dried tarragon leaves
Instructions
Prepare the lemons. Wash them and split them in half lengthwise. Slice to remove the center core and discard the seeds. Slice each half lengthwise and then crosswise into thin (1/16 – 1/8") pieces.  This yielded 3 cups of sliced lemon.

In a stainless steel pot, combine the lemons and water barely to cover (approximately 1¾ cups of water), and bring to a simmer over medium-high heat.

Add 1 cup of sugar and cook for about 5 minutes.

Cool,  add the tarragon and cover and set aside overnight in the refrigerator.

Place a saucer in the freezer for testing the gel. Prepare jars for water bath canning.

Return the lemon recipe back to the pot and add 2 cups of sugar. Cook at a medium boil for about 25 minutes, stirring frequently to prevent a scorched bottom.

The marmalade is done when a droplet added to the frozen plate doesn't run.  If you are testing for gel point turn off the flame or remove the pot while you test!

Ladle the marmalade into hot sterilized jars leaving 1/4 inch headspace.

Wipe the jar rims, top with hot lids/rings and process the jars in canner at a full boil for 10 minutes.