I find myself wanting to try new recipes almost daily since the spring/summer produce seems to be lingering on here in Santa Barbara. I thought I was done with tomatoes but this recipe for a green tomato pie filling kept haunting me. What could that taste like? Why in the world would I put tomatoes in a pie? The other bonus reason to share was it doesn't require Clear Jel. The combination of these ingredients will create a thick pie filling all on their own.
Out of curiosity I emailed Julie, the produce director and CSA manager at Fairview Farms just to inquire if green tomatoes were still available. About a few hours later I was told that they would pick them from the field on Tuesday and have them ready for me. Service with a smile!
When I returned home with my box I prepped the recipe since I had a note from a FB follower to possibly make this recipe in a smaller quantity than the "about" 7 quart version. I worked out some of the quantities but ultimately it was short about a half pint of a whole quart. The good news though is that it went directly into the frig so that I could make pie today and try the incredible flavors in combination that went into the pot.
I am amazed at the depth of flavor that this recipe turned out. It taste like an apple pie but there are different bites and textures from the craisins and tomatoes that are not present in a traditional apple pie. The combination of spices with the addition of a bit of vinegar left a tartness that was lacking in sweet apple pies.  You need to try this if you have never had one.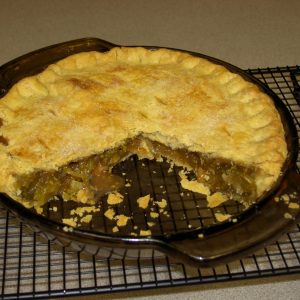 Green Tomato Pie Filling
Here is the recipe which make about 7 quarts. 
Ingredients
4

qts

chopped green tomatoes (16 cups)

3

qts

peeled and chopped tart apples (12 cups)

1

lb

dark seedless raisins (2 cups)

1

lb

white raisins (2 cups) I used dried cranberries

1/4

cup

minced citron, lemon, or orange peel

2

cups

water

2-2 1/2

cups

brown sugar

2-2 1/2

cups

white sugar

1/2

cup

vinegar (5%)

1

cup

bottled lemon juice

2

tbsp

ground cinnamon

1

tsp

ground nutmeg

1

tsp

ground clove
Instructions
Combine all ingredients in a large saucepan. Cook slowly stirring often, until tender and slightly thickened (about 35 to 40 minutes).

Fill jars with hot mixture, leaving 1/2-inch headspace.

Wipe rims, adjust lids/rings and process quarts in a water bath for 15 minutes once the water has come back to a full boil.