I am so excited to finally add one of my favorite soups to the site. My husband was kind enough on his day off to put together the soup so that I could can it tonight. He thinks after making it a dozen times since we have been married that this is the best batch. I tasted it before it went into the jars and it is fantastic. It's sweet from the carrots and the smoked ham flavor gives this soup a classic hearty cold winter favorite.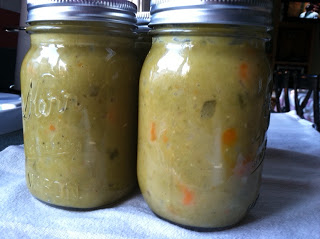 Split Pea Soup
This recipe must be pressure canned but what a great joy it will be for us to have this soup ready during the upcoming winter.
Ingredients
1

16 oz package

package split peas

8

cups

water

1

pc.

large onion

4

pc.

medium carrots diced

4

stalks

celery diced

1

cup

diced Ham (hubby used smoked ham)

1

pc.

Bay leaves

4

pc.

minced Cloves of Garlic

1

Teaspoon

Salt

1

Teaspoon

Pepper

1/2

t.

sage
Instructions
Saute carrots, onions and celery in a stainless steel pot with a tablespoon of olive oil until the onions are tender. Add garlic, bay leaf and sage.

Wash peas picking out rocks and dark peas. Add peas and water to the veggies and cook for about 1 hour or until soft stirring frequently to prevent sticking.

Chop left over ham in small ¼ inch cubes and cook for another 20 minutes stirring frequently. Remove bay leave.

Ladle into hot jars, remove air and fill to 1" headspace. Add hot lids and rings.

Process in pressure canner at 10 lbs. for weighted gauge and 11lbs for dial gauge. Quarts need 90 minutes, pints need 75 minutes.

Makes 4 to 5 pints of soup.