I was a bit behind the eight ball today in getting prepared for this afternoons canning extravaganza. I didn't get a chance to prep everything but the small group, Susan, Leah, Chona, and Connie were very forgiving and we had an opportunity to create a few recipes of our own.
Our first recipe was our Chicken Soup. I had made the chicken broth last night and poached the chicken. We cut up carrots, onion, celery, garlic, and chicken to add to the jars. We put together the jars by filling them with the vegetables and spices we each wanted. I also roasted some poblano peppers that we had to add for a bit of a Chicken Tortilla soup flavor. We added spices like Garam Marsala, Dried Chilis, and red pepper flakes to add a kick. Once the jars were filled we added the chicken stock filling the jars to 1″ headspace. We pressure canned the soup in pints for 75 minutes at 10 lbs of pressure.
We continued our afternoon with one of the recipes that I have been wanting to do once the strawberries came back into season. We are lucky in Santa Barbara to have very few months where we don't have really excellent sweet and luscious strawberries. They are back and getting better now that the weather is starting to get warmer.  Here is our recipe: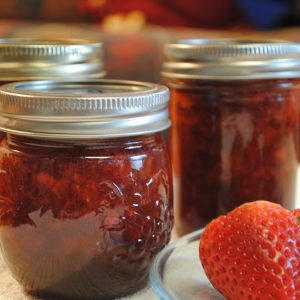 Strawberry Balsamic Jam
Strawberry Balsamic Jam
Ingredients
4

cups

fresh strawberries

1

cup

water

2

cups

cane sugar

6

T.

Balsamic vinegar
Instructions
Top and slice the strawberries into quarters. In a dutch oven cook the strawberries with the water till the recipe is at a boil.

Add the balsamic vinegar and continue cooking till recipe is at the gel point. (see gel point instructions) During the cooking process continue stirring to keep the mixture from burning.

Ladle into hot jars and process in water bath for 10 minutes. Makes 4 half pints. 

The color and flavor was amazing in this jam. It reminds me of a red velvet cake.  We reworked the original recipe since the original one only called for 3 tablespoons of balsamic and that was too subtle.

We added more, tasted, till we got it perfect. A few of the ladies felt it still needed more so they added an additional 1/2 teaspoon of balsamic to the top of the jar before we water bathed.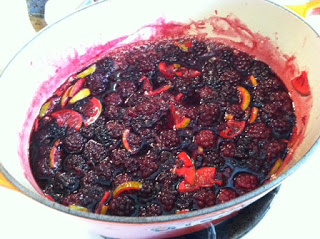 Blackberry Lime Jam
Ingredients
5

cups

frozen blackberries

2

pc.

small limes - thinly sliced and cut into quarters

1 1/2

cups

cane sugar

1

box

powered pectin
Instructions
Add the blackberries and lime slices to a dutch oven and cook till the recipe is at a rolling boil. Add sugar and bring mixture back to a boil. Continue to stir for about 15 minutes till blackberries have cooked down.

Add pectin and prepare jars for filling. When the recipe returns to a boil and thickens a bit, remove from heat.

Ladle into jars and water bath for 10 minutes once the water is boiling. Leave jar overnight on the counter and check the consistency the next day.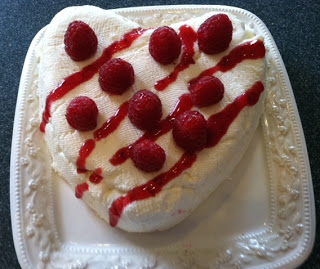 Coeur a la Creme with Raspberry Sauce
Coeur a la Creme with Raspberry Sauce + Raspberry and Grand Marnier Sauce
Ingredients
Ingredients:
12

oz

cream cheese at room temperature

1 1/4

cups

confectioners' Sugar

2 1/2

cups

cold heavy Cream

2

teaspoons

pure vanilla extract

1/4

teaspoon

grated Lemon Zest

Seeds scraped from 1 Vanilla Bean

2

half pints

fresh raspberries
Raspberry and Grand Marnier Sauce
1

half pint

fresh raspberry

1/2

cup

Sugar

1

cup

seedless raspberry jam

2

tablespoons

Grand Mariner or other orange-flavored liqueur
Instructions
METHOD:
Place the cream cheese and confectioners' sugar in the bowl of an electric mixer fitted with the paddle attachment and beat on high speed for 2 minutes.

Scrape down the beater and bowl with a rubber spatula and change the beater for the whisk attachment.

With the mixer on low speed, add the heavy cream, vanilla, lemon zest, and vanilla bean seeds and beat on high speed until the mixture is very thick, like whipped cream.

Line a 7-inch sieve with cheesecloth or paper towels so the ends drape over the sides and suspend it over a bowl, making sure that there is space between the bottom of the sieve and the bottom of the bowl for the liquid to drain.

Pour the cream mixture into the cheesecloth, fold the ends over the top, and refrigerate overnight.

To serve, discard the liquid, unmold the cream onto a plate, and drizzle Raspberry and Grand Marnier Sauce around the base. Serve with raspberries and extra sauce.
Raspberry and Grand Marnier Sauce
Place raspberries, sugar, and 1/4 cup water in a small saucepan. Bring to a boil, lower the heat, and simmer for 4 minutes.

Pour the cooked raspberries, the jam, and orange liqueur into the bowl of a food processor fitted with the steel blade and process until smooth. Chill.
Notes
Each meeting is always an opportunity for us to bring out our latest cannings and share some new recipes that we have made. Susan brought a few samples of her latest canning creations that she modified from the ball book; Apple Maple Jam, Pickled Garlic (allspice & red chili peppers), Applesauce, and her tomato sauce. All of the samples were delicious, but the garlic was really amazing and is on my list for this week to get into jars.  Chona brought another creation, Coeur a la Creme with Raspberry sauce. Below is the recipe by Ina Garten, the Barefoot Contessa. It was a special treat for Valentine's day for all of us. She is really an amazing cook and baker. This recipe is light and fluffy like a moose, but has flavors like a vanilla whipped cream.