I have now spent the last six months really getting involved in the writing, teaching, and defining a place for myself in the the world of canning. I have tried to figure out why canning and sustainability is so important to me. My husband made a comment as we made our weekly trip to Costco for gallons of milk for my 16 year old son. As we passed the fruit and my pace slowed he said "Oh my! I see your feelers going up". I wasn't sure if that was a dig or just a loving observation. I told him it was more about the creativity now because of the amount of people following me on all the social media sites. I am dedicated to keeping my pantry relevant to what my family will eat, but it's also important to keep inspiring others while working with ingredients that are only available during a particular season.
On that note my head has been whirling with the cranberries now in season. It's been what my latest creations are all about. Since late last year I have been craving a combination of my two "golden" berries. Cranberries and Raspberries. Golden in the price and not their color. Tonight I got the opportunity to put my thoughts and tastes down on paper and make now one of my favorite marmalades.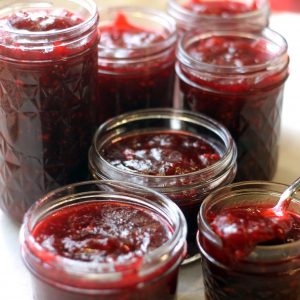 CranRaspberry Marmalade
 The simplest of recipes, the brightest of flavor,  and a deepness of color give this one "two thumbs up". Enjoy!
Ingredients
3

cups

fresh cranberries

1

cup

fresh raspberries

1

pc.

medium orange

1

pc.

lemon

1/2

cup

water

2

cups

sugar
Instructions
Using a vegetable peeler, peel the orange and lemon removing the outer rind and then julienne the rind into thin strips. Place the strips into a medium stainless steel or enameled dutch oven. Over medium heat add 1/2 cup water and the juice from the orange. Simmer these ingredients for 10 minutes, stirring occasionally.

Add the cranberries and raspberries. Cook on medium heat, stirring occasionally, until the cranberries begin to pop. Using the back side of the spoon or spatula continue to mash most of the cranberries until only a few are left whole

Add the sugar and increase the heat and cook, stirring often for 15 more minutes.

Once the mixture has thickened to the consistency of a marmalade, not tight like a jam but a little bit of fluidity like a sauce, remove from heat and ladle into sterilized jars.

Ladle into hot jars leaving 1/4" headspace, remove air bubbles and refill if necessary. Wipe rims and add hot lids/rings tighten the rings only "finger tight".

Place jars in water bath canner and process for 10 minutes once the water has returned to a full boil.

Makes 3 half pints and 1 - 4 oz.