My sister Cheryl in Las Vegas is busy with a tree full of figs and getting them in jars and the freezer. She has been looking for some new creative jams for figs and found a great marmalade with a twist in the recipe. The recipe calls for you to make a simple syrup first then add the ingredients once you have a gel stage to the sugar. She was kind enough to take some great pictures to show the process during the recipe. Here is the Fresh Fig Marmalade from the Food.com website. This recipe is safe for canning!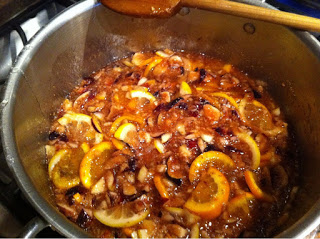 Fresh Fig Marmalade
This recipe is safe for canning! 
Ingredients
6

cups

ripened figs

3

cups

sugar

3

cups

water

2

pc.

medium navel oranges, thinly sliced (do not peel, but cut off and discard ends)

3

pc.

lemons, thinly sliced (do not peel, but cut off and discard the ends)
Instructions
Wash and drain the figs. Cut off the stems and coursley chop.
Simple Syrup
Cook the water and sugar over medium heat until the sugar dissolves and the mixture comes to a full rolling boil.

Boil uncovered for 40-45 minutes over medium heat, stirring often. (Syrup should "sheet" from the back of a spoon.)

Pour figs, orange and lemon slices into the hot bubbling syrup. Boil over medium heat, stirring gently, for 30-35 minutes. (the length of time depends on personal preference for thickness of the syrup.)
Figs and Citrus
Spoon into 3 pint sized or 6 half pints, sterilized canning jars, to 1/4 inch headspace. Wipe the rims. Cover with hot lids, and screw on bands. Process for 10 minutes in water bath.

Cheryl has two more fig recipes that I will post next. Fig Lime Jam and Fig Strawberry. And as a bonus I will post her Fig Bran muffins!