Coming to the end of the shelf life for the Better Homes and Garden Canning Magazine, August 9th, Jennifer a facebook page reader put together another of the recipes and shared her experience and photos. The Blueberry Maple Pecan Conserve was the topic of conversation a few days ago as I was telling another one of my readers that I had done a conserve previously and found that the nuts become soft and mushy over time in the jar. The response was still positive that the flavor of the nuts was still an incentive to try it.
Jennifer made this recipe and added a few adaptations, "The only thing I changed is that I used dried cherries instead of currants. The brown sugar gives it a deeper, more molasses flavor than normal blueberry jam and I love the nuttiness of the pecans. I had some today on a piece of toasted cinnamon chip bread–delish!   In the picture in the magazine, it looks like they served it on top of brie…I bet that would be good too! ".
I unfortunately do not like the taste of maple and wouldn't do this recipe other than for experiment. I greatly appreciate Jennifer's efforts since her commentary on the flavors and adaptations will help others with the final outcome. Thanks again Jennifer for sharing your work.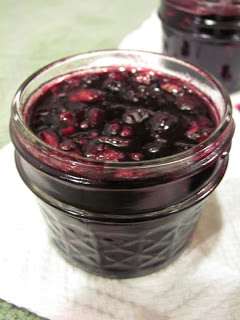 Blueberry Maple Pecan Conserve
Blueberry Maple Pecan Conserve
Ingredients
4

cups

blueberries

1

cup

water

1

cup

pure maple syrup

2

T.

bottled lemon juice

2

cups

packed brown sugar

1

cup

dried currants

1

cup

chopped pecans

1

t.

ground cinnamon
Instructions
In a 4 to 6 quart heavy pot, combine blueberries, the water, maple syrup, and lemon juice. Using a potato masher, slightly crush the blueberries. Bring to boiling, reduce heat. Simmer, covered, for about 5 minutes or until blueberries are tender, stirring occasionally.

Stir the sugar and currants into the blueberry mixture. Return to boiling, stirring until sugar dissolves, reduce heat. Simmer uncovered for about 30 minutes or until mixture thickens, stirring occasionally. Remove from heat. Stir in pecans and cinnamon.

Ladle hot conserve into hot, sterilized half-pint canning jars, leaving 1/4" headspace. Wipe rims, adjust lids. Process in boiling water canner for 10 minutes.