I've done a couple of Better Homes and Gardens recipes today that looked interesting. I made a few adjustments to the acid since they seemed a bit short in that department. The results of the changes didn't effect the final product but gave me some peace of mind that they would be safe in the jar.
Here are the recipes. Remember these are adjusted from the magazine:
Tomato Pineapple Basil Jam
Tomato Pineapple Basil Jam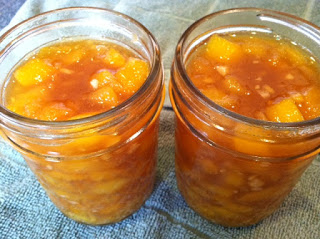 Mango-Rum Chutney
Mango-Rum Chutney
Ingredients
6

pc.

Mangos - diced

4

pc.

large cloves garlic, quartered (I minced them)

4

pc.

large fresh chili peppers (I used yellow peppers, seeded and chopped)

2

cups

packed light brown sugar

1 1/2

cup

cider vinegar (I used 1 3/4 cups)

1/2

cup

light rum
Instructions
Measure 6 cups of  mangos and put into a stainless steel pot. Add garlic, 1/2 cup chopped chili peppers to pot. Stir in brown sugar and vinegar.

Bring mixture to a boil. Reduce heat. Stir in Rum. Boil gently, uncovered for 30 to 40 minutes or until mixture is desired consistency, stirring occasionally.

Ladle into hot, sterilized half-ping canning jars, leaving 1/2 inch headspace. Wipe jar rims; adjust lids and rings. Process filled jars in a water bath at a full boil for 10 minutes.