I spent most of Sunday working with Strawberries and pulled out my copy of the new Better Homes and Garden Magazine to try out a few recipes. The three I worked on are the Strawberry Margarita Jam, Strawberry Ginger Ale, and Strawberry Kumquat.
Strawberries are easy to work with and at this time of the year they have been super inexpensive and really sweet. At the advice of a few family and friends I am trying to find the baskets that have the smallest ripe strawberries. I didn't realize until recently that the inside of a large strawberry has way too much white part which is dry and tasteless. As a result I am much choosier about my "picking".
Let's get to the recipes!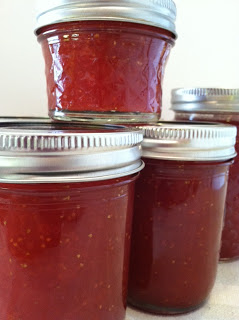 Strawberry Margarita Jam
I changed the base recipe of the Strawberry Jam so that I could do smaller batches of the Ginger Ale and Kumquat.
Ingredients
3

cups

strawberries (crushed) (6 cups whole berries)

2/3

cup

lime juice

1/2

cup

tequila

1/4

cup

Triple Sec

4

cup

sugar

6

oz

liquid (pectin)
Instructions
Food processor or mash the strawberries. I used my "bullet" blender for a really smooth consistency. In a large pot, mix together strawberries, lime juice, tequila, and Triple Sec.

Stir in sugar, bring to a boil over high heat. Immediately stir in pectin and remove from heat. Skim off foam.

Ladle into sterilized jars to within 1/4 inch from rim. Wipe rims clean. Apply lids and rings. Process in boiling water bath for 10 minutes.

The other two recipes started with the same base strawberry jam.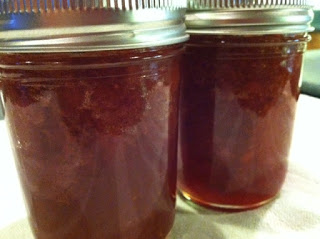 Strawberry Base Jam
Ingredients
4

cups

strawberries

1

cup

sugar

3

T.

Ball Flex Batch no sugar pectin

2

T.

bottled lemon juice
Instructions
For Strawberry Ginger Ale Jam:
Add ½ cup Ginger Ale after skimming the foam before ladling into jars. Fill jars to ¼" headspace, add hot lids, and process in water bath at a full boil for 10 minutes.
For Strawberry Kumquat Jam:
In a small saucepan bring 1 cup quartered kumquats(seeds removed) and 1 cup water to boiling, reduce heat. Simmer covered for about 20 minutes or until kumquats are tender, drain.

Add kumquats to berries.  Fill jars to ¼" headspace, add hot lids, and process in water bath at a full boil for 10 minutes.