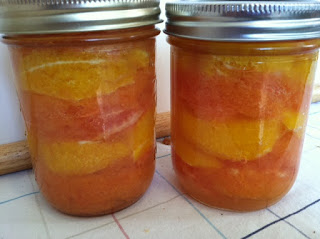 Grapefruit & Orange Sections in water
Here is another of the recipes I finished on Mother's Day. This is a quick easy project to put together and the bonus is no sugar added!
Ingredients
6

pc.

grapefruits

2

pc.

sweet oranges

2

cups

boiling water
Instructions
Peel and segment removing as much of the white part or pith as possible from the grapefruit and oranges. Sterilize two pint jars and layer the grapefruit and oranges till you reach 1" headspace.

Fill the jars with the boiling water, remove air bubbles, and continue to fill the jars until there is 1/2" headspace.

Add sterilized lids and rings and process in a water bath at a full boil for 15 minutes. 

*You can also make these with a light syrup by mixing 2 cups water and 1 cup sugar, bring to boil and pour over fruit.