My two recipes for today were Cabernet Wine Jelly and Cowboy Candy. I have made the Cowboy Candy before which is sweet pickled jalapenos but I am out in my pantry and Jalapenos were on sale from a market that buy from local farmers. First lets get to the Wine Jelly.
I decided that it would be exciting to put together a wine jelly that I could use with a soft goat cheese or brie as an appetizer or nibble at my canning group. I wanted to have a rich bold flavor which I know is in a good Cabernet and had a perfect bottle of Robert Mondavi Private Selection. My husband and I love red wines and have collected many bottles over the years.
Here is the recipe. Enjoy!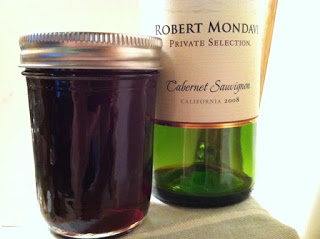 Cabernet Wine Jelly
I am hoping to serve this jelly as a special occasion treat and I will continue to find interesting ways to incorporate the jelly into other recipes. 
Ingredients
3

cups

Cabernet Wine (about one full bottle)

3 1/2

cups

sugar

1/2

t.

bottled lemon juice

1

6oz. package

liquid pectin
Instructions
In a dutch oven or stainless steel pot add the Cabernet Wine and turn the heat on high to get the wine simmering. Measure the sugar into a bowl and add the sugar all at once.

Add lemon juice and bring the recipe up to a boil. Continue to cook for an additional five minutes. Add the liquid pectin and remove from heat. 

Sterilize 4 half pint jars and ladle the jelly into the jars. Clean rims and add lids and rings. Process in water bath for 15 minutes. Remove and let sit on a dish towel overnight.

For the Cowboy Candy recipe here is your link!