When I was a kid on all of our holiday tables I remember vividly my mom would make sure that my dad had a jar of pickled herring, one with sour cream and one just plain. He usually gets at least one jar of my "pickled" creations since he loves to snack on them. He told me about a month ago that he opened my Dilly Beans and ate almost the whole jar. I have been thinking about my dad and I decided to put together a Spiced Red Cabbage which essentially is pickled.
I found the basis for the recipe in the Ball Complete Book of Home Preserving but the recipe was for way more than I wanted to make. Using my previous knowledge of making sure that I keep the acidity levels correct for a smaller batch I did the calculation and created a 4 1/2 pint version that with one large head of cabbage was perfect. The recipe also had a spice that I don't use which is mace and I omitted it in the final version. This recipe takes two days to do but its great for those of you who don't have a whole lot of time after work to do an entire recipe in one night.
As you will see the water bath didn't take away from the beautiful purple color that red cabbage is noted for. The recipe was simple like a raw packed dilly bean, adding the brine afterward to fill the jar to the noted headspace.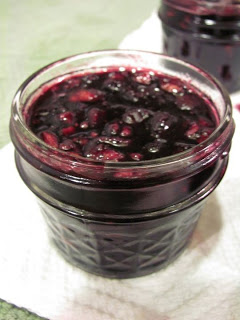 Spiced Red Cabbage
My dad, who is now 83 and still working hard, loves sauerkraut and frankly anything that is pickled or fermented.
Ingredients
1

PC.

Large head Red Cabbage

1/8

cup

Kosher salt

1/2

cup

brown sugar

1/8

cup

mustard seeds

4

cups

white vinegar

1

T.

whole cloves

1

T.

whole allspice

1

T.

peppercorns

1

T.

celery seed

1

PC.

stick cinnamon - broken in half
Instructions
Cut cabbage in half, remove the core and then shred the red cabbage using a knife or mandolin.

Layer the cabbage in a bowl covering each layer with a bit of the salt.

Let stand 24 hours covered.

Rinse the cabbage and then drain the cabbage to get most of the water out on a paper towel or colander. This might take a few hours. 

Prepare 4 pints and one 1/2 pint jars by sterilizing them and then raw pack each jar with the now as dry as possible red cabbage.

Pack them leaving 1 inch headspace. Prepare your lids and rings. 
Notes
In a dutch oven on medium heat combine vinegar and sugar until the sugar is dissolved. Add the mustard seed, and a tied cheesecloth or tea ball of the cloves, allspice, peppercorns, celery seed, and cinnamon. Cook these ingredients together until the mixture comes to a low boil for about 3 minutes This will give the spices time to infuse into the vinegar. Remove the spice ball or cheesecloth before ladling.
Ladle the hot vinegar mixture into the jars leaving a 1/2 headspace. Use the spatula to remove any air bubbles. Process in a water bath for 20 minutes when the water is boiling.
P.S. I brought my dad the jar and his face lit up... "You brought me Red Sauerkraut", well ok dad sort of! Unfortunately I had to tell him to wait for about three weeks to eat it so that the flavors would be perfect but he was grateful that I thought about him anyway.