One thing I do love is a night when I do small batch canning to fill the hours after I get home and my hubby has to work the late shift. It's right now my "me" time and gives me an opportunity this week to test some recipes and methods for my upcoming group demo on Sunday. Because these recipes are small batch I try to find the strangest and most interesting combinations so if they don't turn out I won't feel so bad.
Tonight's recipes including the following: Carrot Cake Jam, Bruchetta in a Jar, and Quince Preserve.
I did want to say a little about the fruit called Quince. It's a hard fruit that looks sort of like a cross between an apple and a pear. Most varieties you can't eat raw, only cooked. They are not easy to peel, but their skin is where most of their pectin resides. They cook up pink and have a wonderful sweet floral aroma. Like apples and pears, they're in season during the fall. Quince paste, a concentrated version, is most likely the national snack of Spain when paired with Manchego, sheep's milk cheese.
I went to the farmers market on Sunday out at Camino Real Center and amongst the throngs of Apples were the Quince. I recognize them from the pictures I had seen. I just couldn't resist trying them in a simple way since they are very odd and I had never eaten them before.
I had a bit left from filling the jars last night and tried it on toast this morning for breakfast. It is sweet like a nectarine, but has a great texture like a peach when preserved. The flavor was a bit floral just as it was described which made me think, "how decadent".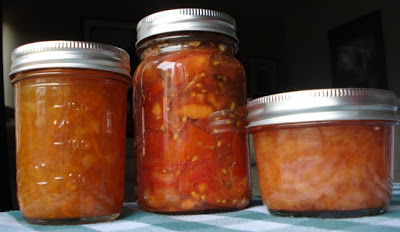 Quince Preserve
Here is the recipe for a fantastic Quince Preserve from the Complete Ball Canning Book.
Ingredients
3

cups

Sugar

8

cups

water

7

cups

cored peeled quartered Quince
Instructions
Prepare canner, jars, and lids. In a large stainless steel saucepan, combine sugar and water.

Bring to a boil over high heat, stirring to dissolve sugar. Boil hard, stirring frequently, for 5 minutes.

Stir in Quince. Reduce heat and boil gently; stirring frequently, until fruit is transparent and syrup thickens. The process takes about 1 1/2 hours.

Ladle hot preserves into hot jars and process 10 minutes.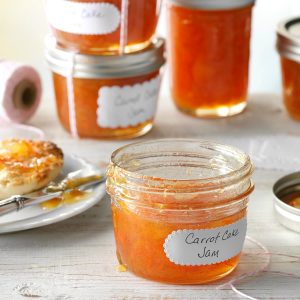 Carrot Cake Jam
My second recipe was a test for a favor that I enjoy in baking; Carrot Cake Jam 
Ingredients
1 1/2

cups

grated, peeled carrots

1 1/2

cups

cored, peeled pears (diced small)

1 3/4

cups

canned crushed pineapple, including juice

3

tsp

lemon juice

1

tsp

ground cinnamon

1/2

tsp

ground nutmeg

1/2

tsp

ground cloves

1

package

powdered pectin

4 1/2

cups

sugar
Instructions
In a large saucepan, combine carrots, pears, pineapple with juice, lemon juice, and spices. Bring to a boil over high heat, stirring frequently. Reduce heat, cover and boil gently for 20 minutes, stirring occasionally.

Remove from heat and stir in pectin until dissolved. Bring back to a full boil, add sugar all at once, bring back to another boil and boil hard for 1 minute.

Remove from heat, skim off foam. Ladle into prepared jars with 1/4 inch headspace. Process jars in a water bath for 10 minutes.
Notes
This was a very easy prep recipe from the Complete Book of Small Batch Canning and again helped me work on my knife skills which I love! I cut back the sugar from 6 1/2 cups and omitted the pectin. I cooked the recipe to 220 degrees to get the "gel".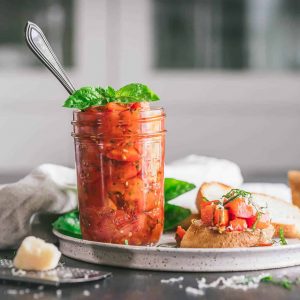 Bruschetta in a Jar
My final recipe of the night was one I kept seeing in my Ball Home Canning book and just had not put it at the top of my list.
Ingredients
5

cloves

garlic, minced

1

cup

dry white wine

1

cup

white vinegar

1/2

cup

water

2

Tbsp

sugar

2

Tbsp

dried basil

2

Tbsp

dried oregano

2

Tbsp

balsamic vinegar

9

cups

chopped cored peeled plum tomatoes (about 4 lb or 12 medium)
Instructions
Prepare boiling water canner. Heat jars and lids in simmering water until ready for use. Do not boil. Set bands aside.

Combine garlic, wine, vinegar, water, sugar, basil, oregano and balsamic vinegar. Bring to a full rolling boil over high heat, stirring occasionally.

Reduce heat, cover and simmer 5 minutes or until garlic is heated through. Remove from heat.

Raw pack tomatoes into hot jars leaving 1/2 inch headspace. Ladle hot vinegar mixture over tomatoes leaving 1/2 inch headspace. Remove air bubbles.

Wipe rim. Center hot lid on jar. Apply band and adjust until fit is fingertip tight.

Process filled jars in a boiling water canner for 20 minutes, adjusting for altitude. Remove jars and cool.

Check lids for seal after 24 hours.  
Notes
Bruchetta in a Jar! I just love making recipes that you can open and with one additional step its an instant appetizer. We seem to have lots of family get togethers and it is great to whip one up when I need it. I was fortunate to find organic Roma tomatoes at my local grower for a steal. They were a bit riper than I needed but I picked through and found plenty.
The brine for the tomatoes taste and smells extremely savory and this is a quick raw pack method for filling the jars with the Roma's.
Makes about 7 (8 oz) half pints