Waldorf Pudding Dessert Recipe is one of the most welcomed desserts in the United States Cuisine. You might try different type of Pudding dessert before but Waldorf Pudding Dessert is so sweet and extra delicious. You may try our Waldorf Pudding Dessert Recipes and give your family and friends a special impression in these dessert recipes. Besides, you can discover more information about Waldorf Pudding, such as History of Waldorf Pudding.
Are you looking for Waldorf Pudding Dessert Recipes? Ingredients used? Steps to make it? That's good! You may gain our best Waldorf Pudding Recipe via SBCanning. Enjoy your reading!
Waldorf Pudding Dessert Recipe
The first time I taste Waldorf Pudding was in a American restaurant. Waldorf Pudding is my first tried dessert in America Trip and giving me good impression on American desserts. Waldorf Pudding is a baked dessert, which is made with flour, eggs, butter, apples, dates and walnuts. The ratio of eggs, butter and butter will affect the texture of Waldorf Pudding. Sometimes, raisins and nutmeg can be added into Waldorf Pudding in order to enhance its taste. 
History of Waldorf Pudding Dessert Recipe
The history of Waldorf Pudding Dessert Recipes was associated with the United States Cuisine. It may trace back to the early 20th century. The first class passengers on the RMS Titanic were enjoyed Waldorf Pudding. Nowadays, Waldorf Pudding dessert can be found in many restaurants and cafe in every region of America.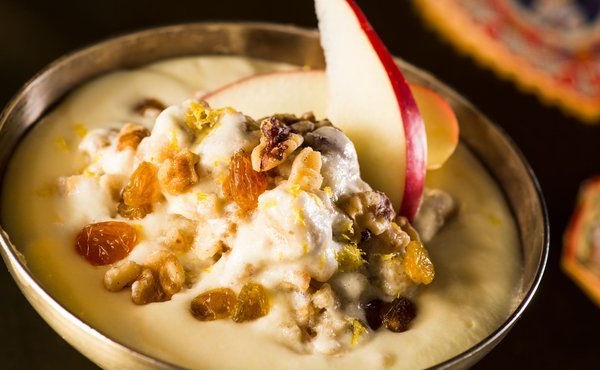 Waldorf Pudding Dessert
In American, Waldorf Pudding has been served during breakfast or dinner.
Ingredients
50

grams

caster sugar

50

grams

butter, softened

100

grams

all purpose flour, sifted

2

large

eggs

1

tablespoon

baking powder

1/4

cup

apples, chopped

1/4

cup

walnuts

1

teaspoons

vanilla extract

1/4

cup

dates puree
Instructions
Preheat the oven to 350°F. Grease and butter 4 individual moulds.

In a medium bowl, whisk the butter with sugar until light and fluffy. And then, beat in the eggs until well combined.

Stir in flour and baking powder into egg mixture. Add in dates, apples, walnuts and vanilla extract gradually until well incorporated.

Fill greased moulds three-fourths full.

Place into the preheated oven and bake it for 30 to 35 minutes.

Remove pudding out from the oven and let it cool to room temperature. Enjoy it!
Notes
Tips on Preparation of Waldorf Pudding Dessert
The tips of Waldorf Pudding Dessert Recipes are useful for your preparation. It is additional information for you to enhance the taste and flavor of your Waldorf Pudding.
While baking, you should set the correct degrees and timing (burnt if the degree too high)

The confectioners' sugar or icing sugar can be sprinkle on top of Waldorf Pudding dessert.