Plum Pudding Dessert Recipe is one of the most welcomed desserts in British Cuisine. You might try different type of Pudding desserts before but Plum Pudding Dessert is so sweet and extra delicious. You may try our Plum Pudding Dessert Recipes and give your family and friends a special impression in these dessert recipes. Besides, you can discover more information about Plum Pudding, such as History of Plum Pudding.
Are you looking for Plum Pudding Dessert Recipes? Ingredients used? Steps to make it? That's good! You may gain our best Plum Pudding Recipe via SBCanning. Enjoy your reading!
Plum Pudding Dessert Recipe
Last few years Christmas Day, my mum and I prepared a lot of Christmas desserts for relatives and friends in the festival party. Plum Pudding is a traditional Christmas dessert, which made with raisins, currants, walnuts, brandy, plain flour, eggs, cinnamon, and nutmeg. In addition, Plum Pudding can be prepared by 2 methods, there are steaming or boiling. Why it is called as Plum Pudding but No Plum involved? It because of plum is referred to raisins or other fruits during 17th century. 
History of Plum Pudding Dessert Recipe
The Plum Pudding Dessert Recipes was origin from Medieval England. The first association of plum pudding with Christmas can be traced back to 1714. During 1714, the King George I of Great Britain requested that plum pudding be served as part of his royal feast in his first Christmas in England. Until the 1830, plum pudding is getting popular after people topping it with the cannon-ball of flour, fruits, suet, sugar, spices, and holly. It definite made a Christmas appearance to plum pudding.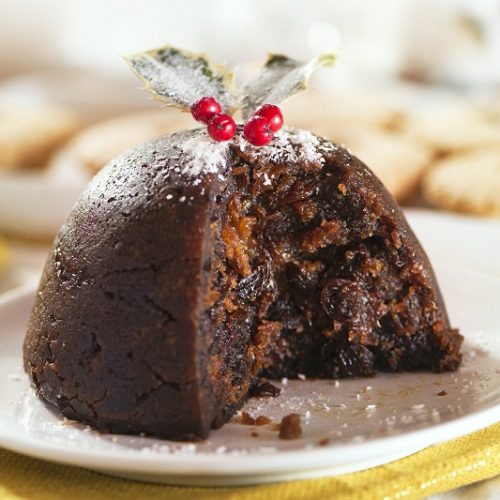 Plum Pudding Dessert
So people call it as plum pudding due to raisin and mixed fruit as main ingredient.
Ingredients
2

cups

mixed fruit

1/2

cup

pitted prunes, chopped

1/2

cup

walnuts, chopped

1

cup

Juice and rind of 1 orange

1

tablespoon

brandy

1

tablespoon

golden syrup

2

large

eggs

1/2

cup

cream

50

grams

brown sugar

100

grams

plain flour

1

teaspoon

ground cinnamon

1/2

teaspoon

ground nutmeg

1/2

teaspoon

bicarbonate of soda
Instructions
In a large bowl, combine the mixed fruit with prunes, walnuts, orange juice, rind, brandy and golden syrup until well blended.

In another bowl, stir the eggs, cream, and sugar. And then, combine the egg mixture with fruit mixture.

Sift flour, cinnamon, nutmeg and soda into fruit mixture and stir until well incorporated.

Place the mixture in a greased and lined 5 cup pudding basin.

Place foil over top of basin, securing with a string and then cover with lid.

Place pudding in a large saucepan of boiling water making sure water comes halfway up the side of the basin.

Boil for 5 hours, checking water frequently.

Boil again for a further 1 1/2 hours before serving.
Notes
Tips on Preparation of Plum Pudding Dessert
The tips of Plum Pudding Dessert Recipes are useful for your preparation. It is additional information for you to enhance the taste and flavour of your Plum Pudding. 
The electrical mixer can be used in this dessert recipe in order to improve efficiency. 

The Plum Pudding can be served in warm or chilled.