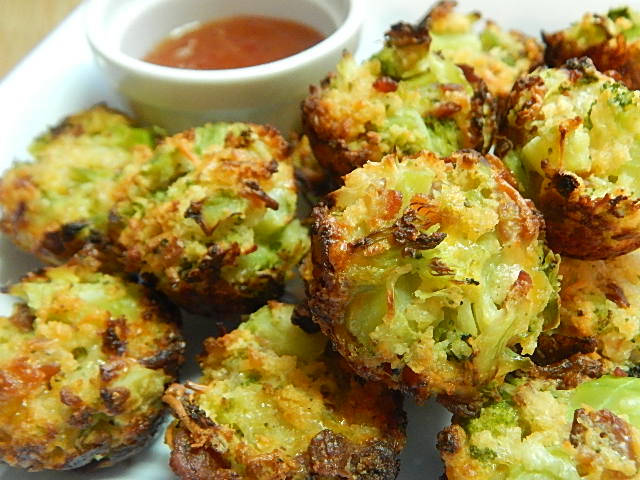 Bacon Broccoli Bites [microwave + deep-frying]
Bacon Broccoli Bites [microwave + deep-frying]
Ingredients
4

tablespoons

[60 mL] water

8

ounces

[227 g] broccoli flowerets

4

ounces

[113 g] bacon, really finely chopped

1

tsp

Dry breadcrumbs, to taste

1

egg

yolk

2

teaspoons

[10 g] grated Parmesan cheese

1

Pinch

Cayenne pepper

1

Pinch

Salt and pepper, to taste

1

egg

beaten

1

oil

for deep-frying
Coating:
3

tsbp

All-purpose flour

3

ounces

[85 g] bran flakes, crumbled
Instructions
Pour water into a microwave-safe dish; add broccoli flowerets.

Microwave, covered for 7 to 8 minutes on 'MAXIMUM', stirring at half-time.

Drain and pat dry broccoli flowerets using paper toweling, then chop broccoli flowerets.

Sprinkle finely chopped bacon onto a plate, already lined with 2 paper towels.

Cover with paper toweling and microwave for 3 to 4 minutes on 'MAXIMUM'; set aside for 5 minutes.

Into a clean bowl, mix together coating ingredients [flour and bran flake crumbs]; set aside.

Into another bowl, mix together breadcrumbs and egg yolk; mix in grated Parmesan cheese, Cayenne pepper, chopped broccoli flowerets, bacon crumbs, salt and pepper.

Evenly spread mixture onto a large plate; thightly cover and refrigerate mixture for 1 to 2 hours.

Divide mixture into 16 equal parts; shape into small balls. Dip balls into beaten egg, then roll balls into breadcrumbs mixture until well coated.

Arrange balls onto waxed paper; refrigerate for 30 minutes. Into a deep-fryer, preheat some oil to 350°F [180°C].

Transfer broccoli balls into deep-fryer's wire basket and slowly lower filled basket into hot oil. Deep-fry broccoli balls for 3 to 3 1/2 minutes, until golden brown and crisp on the outside.

Drain onto paper toweling, and serve.

Comments: Waiting time: 5 minutes

Deep-frying time: 3 to 3 1/2 minutes

Serve hot, along with colorful raw vegetable bites, chutney or a sauce of your choice.

On a buffet table, serve these bites along with all kinds of dips and relish.