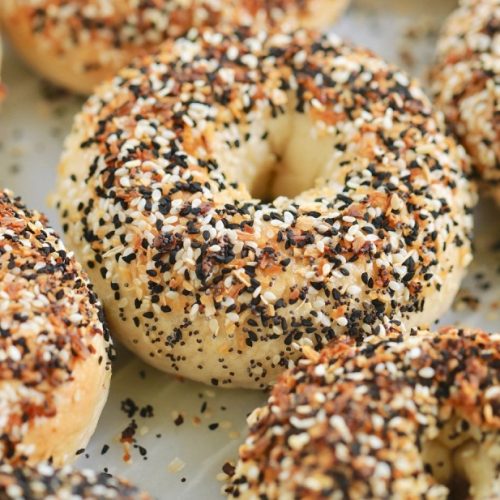 Bagels
Ingredients
1

cup

[250 mL] milk

2

ounces

[56 g] butter

2

tablespoons

[30 g] sugar

2

tablespoons

[30 mL] baker's yeast [or 2 teaspoons / 14.6 g active dry yeast]

1

egg

white

1

egg

yolk

1

teaspoon

[5 mL] cold water

1/2

teaspoon

[2.5 mL] salt

3 1/4

cups

[810 mL] baker's flour

1-2

tsp

poppyseeds, sesame seeds and/or coarse salt
Instructions
Heat milk until just boiling.

Away from heat, mix in butter and sugar, until butter has melted.

Pour mixture into a bowl; cool slightly.

Add yeast; let rise for approximately 10 minutes.

Add egg white and salt; slowly mix in flour.

Mix until dough is well mixed and light.

Onto a floured surface, knead dough for about 15 minutes, until smooth and no longer sticky.

Shape into a ball; let rise into a warm environment, until double in bulk, for approximately 1 hour.

Divide dough into 2-ounce [56-g] balls.

To shape into a ring, slowly press with a floured finger into the center of each ball, until you can feel the counter.

Moving your finger in circle, enlarge the hole.

Then let each bagel turn around your finger, until the hole is as large as 1/3 of the bagel.

Arrange bagels onto a platter; cover with a clean cloth and let rise for 10 minutes.

Into a large casserole filled with boiling water, drop a few bagels at a time; leave bagels to boil for 15 seconds, until swollen. Watch carefully or they will desintegrate if they boil for too long.

Delicately remove bagels; arrange onto a buttered cookie sheet. Mix togehter egg yolk and cold water.

Brush bagels with a little egg yolk/water mixture. Sprinkle bagels with poppyseeds, sesame seeds and/or coarse salt.

Bake bagels into a preheated 425°F [220°C] oven for approximately 20 minutes, until crusty and golden brown. Cool, onto wire racks.