Sweet Mandarin Salad-this happens to be my daughter's recipe, contains many good nutrients-packed with sunflower seeds, almonds and garlic.  Leaf lettuce-1 large head-make sure your lettuce has been soaked and patted dry and put into refrigerator prior to making salad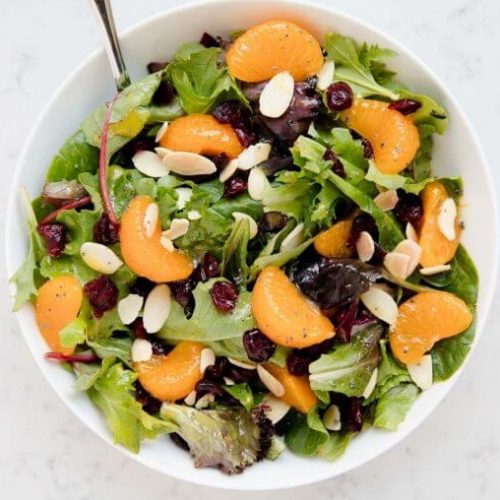 Sweet Mandarin Salad
This salad is classy to serve and will be one of your very favorites for certain.
Ingredients
1

cup

Mandarin Oranges, drained

1/2

cup

roasted, unsalted sunflower seeds

1/2

cup

slivered almonds sauted in 1 tbsp butter until lightly browned
DRESSING:
3

tbsp

red wine vinegar

1/2

cup

virgin olive oil

1

tbsp

sweetener (Splenda)

1

tbsp

lemon juice (freshly squeezed)

1

pinch

sea salt

1/2

tsp

dry mustard

1

clove

elephant garlic crushed
Instructions
Add the roasted unsalted sunflower seeds with the sauted almonds (lightly browned in butter) Set aside.

Make dressing by adding all ingredients into a shaker, and shake until completely mixed. If you want to use a blender, that is fine as well.

Tear lettuce leaves up into large salad bowl and add drained mandarins. Just prior to serving, add sunflower seeds and sauted (cooled) almonds.

Pour dressing over salad and toss like a new Chef borne. This salad is marvelous!

Serves approximately 6-8 people.