Since basil rarely overpowers, we can use it quite generously. It has many uses, such as in mixed green sandwiches, in many Italian dishes, pizza included, in soups, and stews, roasted peppers and with many meat dishes.
Surprise-We are going to make Basil Lemonade!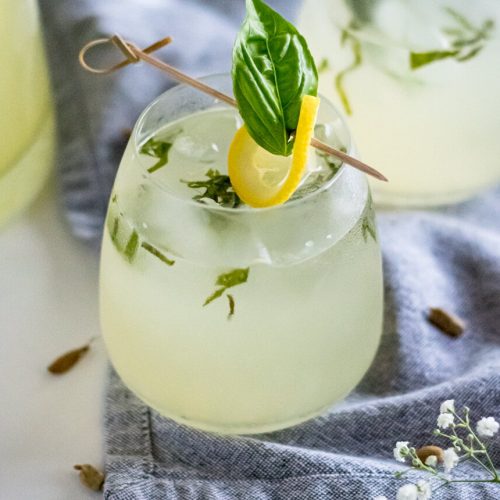 Sweet Basil Lemonade
Sweet Basil carries a spicy blend of clove, anise and cinnamon, with a hint of citrus and camphor.
Ingredients
1

cup

water

1

cup

sugar

1

cup

fresh basil leaves

2

cups

ice

3

cups

cold water

1/2

ounce

container of fresh frozen Lemonade (thawed)
Instructions
Bring to a boil in a small saucepan 1 cup water and 1 cup sugar-boil over medium heat.

Once the sugar has dissolved-let stand about 5 minutes.

Remove pan from heat and add 1 cup freshly cut basil leaves. Cover and let sit for about 30 minutes.

Fill pitcher with 2 cups ice; while straining the sugar syrup into the pitcher, pick out the basil leaves and discard.

Then, stir in 3 cups water and the thawed fresh frozen lemon juice.

This recipe makes approximately 7 cups, and is a surprising addition to our herb recipes.