SBcanning feels this recipe is a must. Swiss Chard is actually from the beet family. It has large green-yellow leaves and thick juicy stalks that are used in salads, high in Vitamin C and potassium, calcium, iron and beta-carotene. Swiss Chard is also very low in calories-next to nil.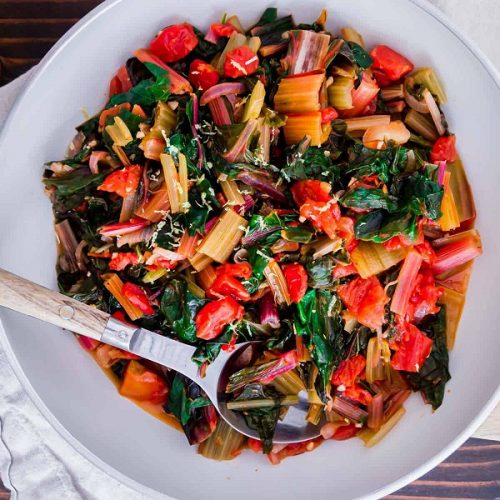 Swiss chard tomatoes & cheese
Here at SBcanning we would choose sea salt, freshly ground pepper, whole wheat penne pasta, of course, keeping in line with nutritional value and, for that extra tastiness..
Ingredients
2

tablespoons

olive oil

2

bunches

Swiss chard, washed, center ribs cut away, coarsely chopped (about 8 cups), or three 10-ounce packages frozen chopped chard, thawed, squeezed dry

2

cups

penne pasta

1/2

cup

Italian bread crumbs

3

red

bell peppers, chopped

1

large

onion, chopped

2

cups

packed grated Monterey Jack cheese (about 8 ounces)

1/2

cup

grated Parmesan cheese

2

large

tomatoes, thinly sliced
Instructions
Grease a 13 x 9 x 2-inch glass or ceramic baking dish and set aside.

Boil water and add penne pasta. Cook until al dente. Drain and set aside.

Preheat oven to 350 degrees F.

Heat 1 tablespoon oil in a heavy, large Lodge Logic 5-Quart Pre-Seasoned Dutch Ovenover high heat and add the chard. Sauté until wilted, about 3 minutes. Transfer chard to colander and drain well, pressing chard with back of spoon to release liquid.

Heat remaining 1 tablespoon of oil in a heavy, large saucepan over medium heat. Add bell peppers and onion and sauté until tender, about 8 minutes.

Mix in chard and toss to combine. Mix in half of each cheese and the breadcrumbs, then mix with the cooked pasta.

Season to taste with salt and pepper.

Spoon into prepared dish and layer sliced tomatoes over the vegetable pasta mixture.

Season the tomatoes with salt and pepper and sprinkle the remaining cheeses over. Cover with foil.

Bake casserole until heated through, about 40 minutes. Uncover; bake until top begins to brown, about 10 minutes more.