At SBcanning, we are proud to present this wondrous curry dish, which is full of healthy vegetables and herbs as well.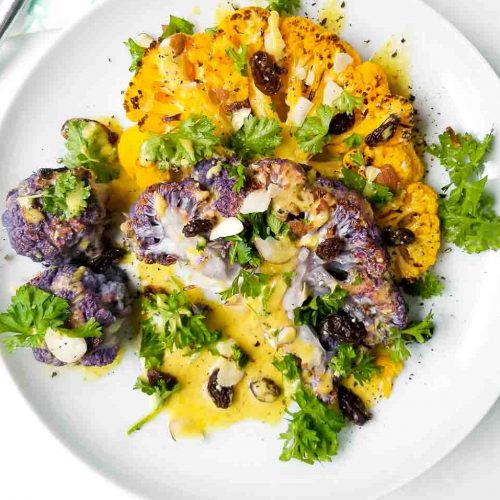 Cauliflower curry-colorful
Cauliflower curry-colorful
Ingredients
1

tbsp

olive oil

1

Spanish

Onion chopped

2

crushed

Elephant garlic cloves

2

tbsp

Nutri Robin Hood Flour

2

cups

Apple Juice

1

large

cauliflower, trimmed

3

large

fresh potatoes

2

large

ripe tomatoes unpeeled

1

cup

frozen peas

1

Dash

sea salt

2

tbsp

curry powder

2

tbsp

freshly squeezed lemon juice
Instructions
Heat oil in large skillet on medium stove. Stir in chopped onion, crushed Elephant garlic cloves. As you are stirring, sprinkle mixture with curry powder. Saute until onions just begin to soften.

While stirring constantly, sprinkle with flour until it is absorbed evenly. Stir in apple juice and continue cooking, stirring often, as mixture begins to thicken, as it boils.

Cut cauliflower into bite size pieces. Cut potatoes into 1 inch cubes, stirring them into the curry mixture, after about 15 minutes of the curry mixture simmering, stir in tomatoes, peas, dash sea salt and lemon juice.

Continue simmering, stirring often until peas are just hot.

Ready to serve in a beautiful serving dish!

Suggestion: Serve this fancy curry with roasted chicken or grilled fish.

A nice white wine would go well with this!