Over the years, I cultivated my favorite chili con carne recipe, and it remains my favorite. I shall share it with SBcanning.
My secret is the use of very lean beef, minced, 2 tbsp brown sugar, basil and oregano, and I prefer to use crushed tomatoes (one large can) and 2 tbsp. of tomato paste rather than 2 cans of tomato paste which I see in so many recipes. Also, I like to let my chili simmer until it thickens on its own. So enjoy this recipe.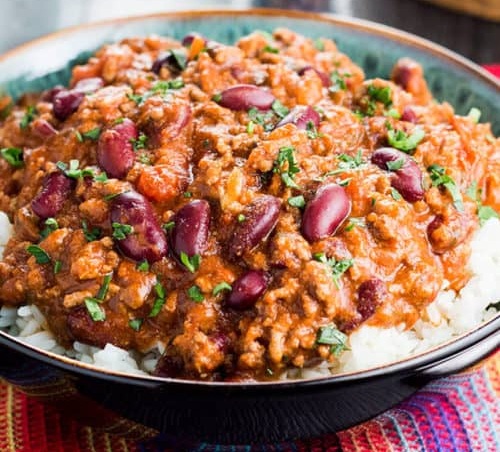 Chili con carne
Ingredients
1

tbsp

extra-virgin olive oil

1

lb

extra-lean beef, minced

3

cloves

garlic, minced

1

medium-siz

Spanish onion, chopped

1

green

pepper, chopped

1

cup

canned mushrooms without juice (or fresh sliced)

2

tbsp

chili pepper

1

pinch

of cayenne pepper

1 14-ounce

can

crushed tomatoes

2

tbsp

tomato paste

2

tbsp

brown sugar

2-14

oz

cans red kidney beans (rinsed)
Instructions
Heat olive oil in large heavy-based pan.

Add the garlic, onions, and green pepper; cook over medium heat until golden browned.

Add very lean minced beef, cooking on medium-high heat, well browned. Add chili powder, cayenne and oregano and basil. Stir well and cook over medium heat for 5 minutes.

Mix crushed tomatoes, tomato paste, 1/2 cup water and let simmer for 30 minutes, stirring occasionally.

Add, beans, sugar, and flavor with seas salt and pepper to taste. I let the chili simmer on lowest setting for a couple of hours and the flavour is out of this world.

Now, just before serving, I like to grate some light cheddar cheese on top and let it melt a bit into the chili.

This Healthy Chili Con Carne Recipe is now ready to serve.

Chili tastes excellent with Caesar Salad and Buttermilk Biscuits, or Baking Powder Biscuits; both recipes on this site!

Healthy Recipe serves 6 people heartily. Yummy!