What do you do with the left-over turkey? SBcanning has a great idea! Turkey will make a great stir-fry base, loaded with tryptophan and protein, skinless and all the excess fat removed. Since I have discovered 'heaven with herbs' in my cooking, creativity is at its best for me.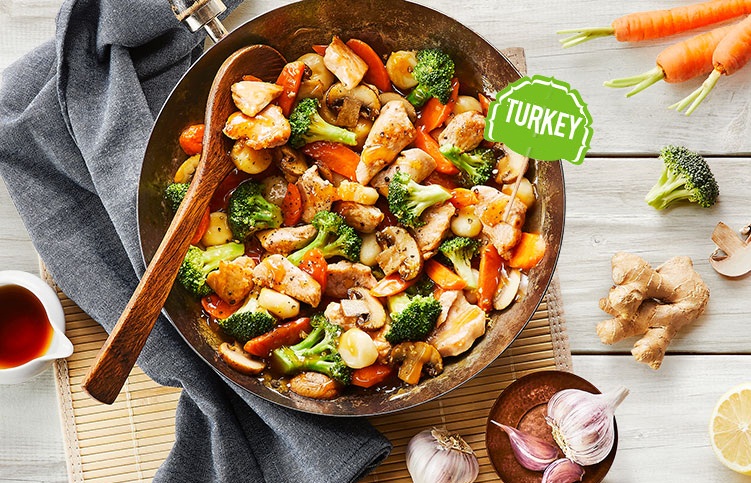 Turkey ginger stir-fry
The vegetables in the stir-fry will give us all the vitamins and good taste as well.
Ingredients
1

lb

turkey pieces (bones and excess fat removed)

1

tbsp

extra virgin olive oil

1/2

Spanish

onion chopped

1/2

cup

fresh mushroom sliced

1/2

cup

fresh red pepper

1

cup

broccoli flowerets

1

cup

water chestnuts

1

tbsp

honey

2

tbsp

soy sauce (I prefer Kikkoman)

1

tbsp

lemon juice

1

tbsp

cornstarch
Instructions
Heat olive oil in skillet(or your wok)at medium-high heat.

Add all vegetables to the skillet stirring regularly.

Let vegetables cook with the lid on until they are just cooked (still crackle when bite into them).

Do not overcook as vegetables lose valuable nutrients and Stir-Fry is not as tasty.

Mix all liquids together in a small bowl. Add cornstarch stirring until smooth.

Remove lid from skillet and pour liquid mixture over vegetables.

Toss like a salad, then let thicken for about one minute.

Remove from skillet, onto a bed of your favorite rice.

SBcanning gives this stir-fry a thumbs up!

Delightful recipe serves 6.