SBcanning found this intimate Asian recipe in The Province February 08, 2008 issue and felt it worth adding to our recipe collection (recipe by Eric Akis). Such a flavorful, colourful and nutritious dish-just add steamed basmati rice and voila-dinner is ready. See my Basmati Recipe under Category Beans, Lentils, Grains, and at the bottom of that category is listed Rice.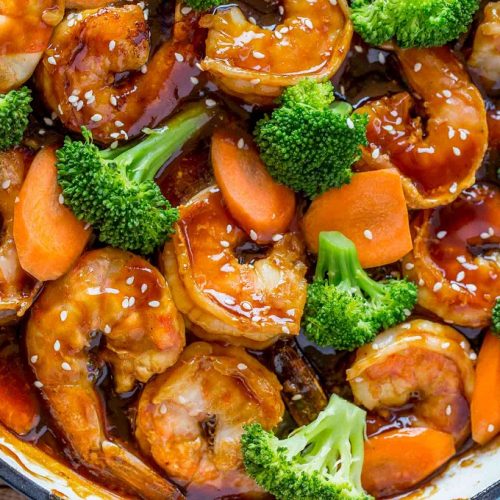 Steamed prawns and asian greens
Steamed prawns and asian greens
Ingredients
2-3

baby

bok choy, trimmed and separated into single-stock pieces

4-6

stalks

of gai lan, stems trimmed, and each cut into three pieces.

(gai lan found in specialty section of grocery store or in Oriental/Asian store)

12

large

prawns, peeled, with tail portion left intact.

6-8

fresh

shitake mushrooms, stems removed and discarded, caps quartered

1/2

small

yellow bell pepper, diced

1/2

cup

Asian style chili sauce (see in Asian/Oriental Section is groceries)

2

tbsp

lime juice

2

tbsp

toasted sesame seeds
Instructions
Arrange bok choy and gai lan on bottom of 11-inch round steamer and set steamer in wok, skillet or pot (even a double boiler should work unless you have a veggie steamer.

Place sweet chili sauce and lime juice into a small skillet; set over medium-low heat and bring to a gentle simmer.

Meanwhile, place lid on the steamer and set steamer in wok, skillet or pot filled with water level just below steamer or double boiler.

Steam for three to four minutes, just until the prawns and vegetables are just cooked through. Divide the prawns and vegetables on two heated plates.

Drizzle with the sweet chili sauce mixture, sprinkle with sesame seeds and serve.

Note: To toast sesame seeds, place in small skillet and set over medium heat, until the seeds are lightly toasted (3-4 minutes).

Healthy Recipe takes only 20 minutes to prepare and 3-4 minutes cooking time, is low in calories and the greens are full of vitamins and prawns full of protein. (Note: Prawns are high in cholesterol but not fat).

Serve with Healthy Basmati Rice recipe and you have full excellent tasty meal. See Basmati recipe under Categories, Beans, Lentils, Grains, then Rice on this site.

Healthy Recipe serves 2 people. Enjoy!