Cod sits next to Halibut in my favorites in the fish department.  Cod cooks rapidly, may be garnished with a variety of herbs, dill, chervil, and as you can see below, caraway seeds, chives,coriander, cumin, parsley, oregano Cod may be steamed, poached, fried, used in fish chowders, and it is well known that white fish as cod, used with a carbohydrate (rice, potato) becomes filling very quickly.
So onto another of my favorite dishes…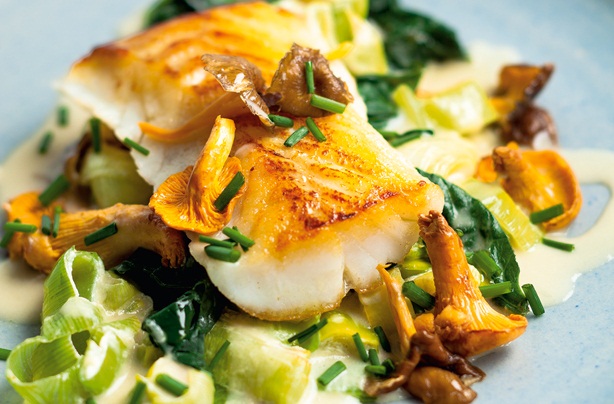 Ingredients
2

tbsp

butter

1

small

head red cabbage, de-cored and thinly sliced

1

lb

Granny Smith apples, de-cored and cubed into 1/2 blocks

2

tbsp

water

1

tbsp

cider vinegar

1/2

tsp

caraway seeds

1

Dash

of Sea salt

1

Dash

of freshly ground pepper

4

cod

fillets (6 oz ea)
Instructions
Melt butter over medium-high heat, in a 12 inch, non-stick, deep skillet.

Stir in cabbage, apples, cider vinegar, caraway seeds, and 1/4 tsp sea salt. Turn down heat to medium and cover skillet-cook cabbage mixture for about 8 minutes, stirring occasionally until cabbage looks like it is softening. Add cod to top of cabbage mixture, sprinkling with sea salt and freshly ground pepper.

Cover skillet and cook for another 10 minutes. Cod will turn to an opaque color throughout when cod is cooked. Garnish with thinly sliced apples (cut from top of apple to bottom.)

Serve on a beautiful platter to show off this artfully prepared dish of cod, red cabbage and apple. This has been a favorite of mine since long ago when I met a girl from Norway, who taught me to use caraway seeds.

So tasty when you know how to do it! And dish is simple-quick to make. Yummy.