For those of you who like hamburgers, you can now choose ground sirloin bulked up with healtlhy egg and whole wheat bread crumbs.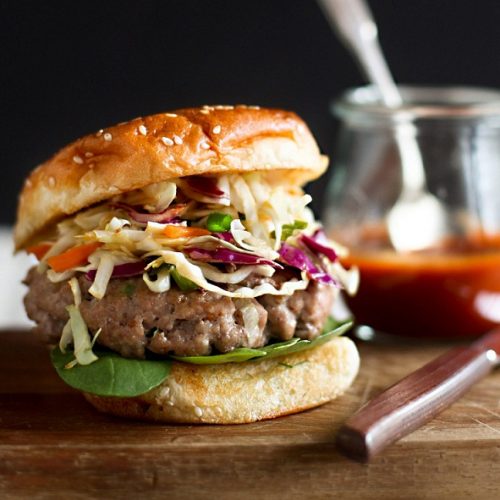 Chipotle asian sirloin hamburgers
SBcanning recommends that this enhancement of the burger makes a healthier choice all around.
Ingredients
1

lb

Lean ground sirloin

1/4

cup

dry bread crumbs

2

green

onions thinly sliced

1

lightly

beaten egg

1

tbsp

grated ginger root

2

tbsp

light soy sauce

1/4

tsp

sea salt

1/4

tsp

freshly ground black pepper
Instructions
Combine beef, bread crumbs, onions, light soy sauce, ginger root, egg, sea salt and pepper in a bowl.

Make 3-4 patties that are 3/4 inch thick.

Barbecue over medium-high heat on lightly oiled grill for 5 to 7 minutes. Healthy Recipes recommends you use a meat thermometer (digital) inserted sideways into the centre of each pattie. Each pattie must be 160 degrees F (71 degrees C) before it is considered cooked.
Now comes the fun part! Toppings for sirloin burgers are:
Pineapple Pepper Salsa-using small pineapple pieces, a sweet red pepper chopped, 1/2 cup minced red onion, adding 2 tbsp of lime juice and extra-virgin olive oil. Then add chopped fresh cilantro, and freshly ground pepper.

English Cucumber Special-Mix 2 tbsp thinly sliced English cucumber, 2 tbsp fresh chopped dill, and 2 tbsp rice vinegar, and lastly, sweet chipotle sauce.

Use crisped romaine lettuce on top of the base of the sirloin burger.

Now this is what we call a "real whopper sirloin burger."

For those who like mustard on their burgers, add a mix of 1/4 cup Dijon mustard and 2 tbsp of wasabi paste.

SBcanning feels this is an excellent meal in itself. Use whole grain hamburger buns, and for fun add on a platter beefsteak tomatoes, roasted red peppers. The sky is the limit when creating burgers.