It is healthy-has only 2/3 cup sugar in the entire recipe. Rhubarb is healthy-provides fibre and the almonds, orange and lemon rind are all healthy.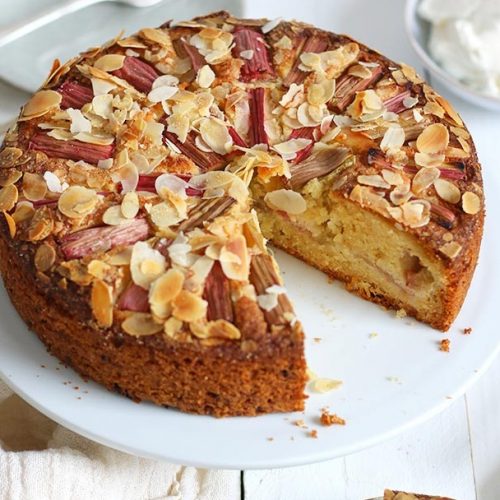 Almond citrus cake with rhubarb compote
SBcanning loves this recipe because one can have a piece without feeling guilty.
Ingredients
1 1/2

cups

Nutriblend Flour (Robin Hood)

1 1/2

cups

ground almonds

2

tsp

baking powder

1

tsp

baking soda

1/4

tsp

sea salt finely ground

1/2

cup

unsalted butter, softened

2/3

cup

granulated sugar (or Splenda sugar replacement)

4

eggs

separated

2

tsp

finely grated orange rind

2

tsp

finely grated lemon rind

4

tsp

lemon juice (organic)

4

tsp

lemon juice (organic)

1/2

tsp

pure vanilla extract

1/2

tsp

almond extract

3/4

cup

buttermilk
COMPOTE INGREDIENTS:
4

cups

cut rhubarb pieces 1/2 inch in length

1/4

cup

granulated sugar

2

strips

orange rind

2

tbsp

orange juice

1

tbsp

pure vanilla
Instructions
Whisk together flour, almonds, baking powder, soda, sea salt and set aside.

In a large bowl, beat butter with sugar until fluffy and light, adding egg yolks, one at a time, beating for at least 30 seconds after each.

Beat in orange and lemon rinds, lemon juice and vanilla and almond extracts.

Stir into flour; then alternately with buttermilk, and flour, making 3 additions of flour and two of buttermilk.

Beat egg whites until frothy and fold into buttermilk mixture.

Scrape into butter parchment lined 9 by 13 inch baking dish.

Bake in 350F oven until center springs back-40 minutes-remove and let cool.

For the Rhubarb Compote-in a saucepan, stir together rhubarb, sugar, vanilla and orange rind and juice, removing any seeds.

Bring to a boil, reduce heat and simmer for 2-5 minutes until rhubarb is tender. Add a dash of cornstarch to thicken. Let cool.

To serve, remove cake from pan to fancy platter and spoon compote over the cake. This is a dreamy recipe for our collection.

Healthy Recipe will serve approximately 12 people.