Sandwiches may vary in shape or forms and may consist of different types of breads. I prefer a moist whole wheat and for these particular sandwiches we are making today, it is possible to buy a light colored whole wheat bread, which cosmetically gives it a more appealing look.
Certain rules are best to use for making fancy sandwiches.
Prepare fillings first; then chill until ready to use.
Cream butter until soft and fluffy; therefore using less for sandwiches.
Use very fresh bread to make rolled or pinwheel sandwiches.
You will need a very sharp knife for slicing bread.
To keep bread moist, cover with a clean moist tea towel.
Now let us get to the sandwiches.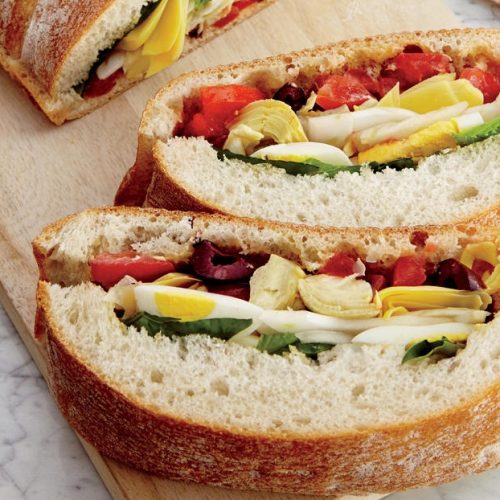 Healthy fancy sandwiches
Sandwiches are ever popular for luncheons, snacks, picnics, or even lunches for school.
Ingredients
1

sandwich

loaf, whole wheat brown crusts trimmed from bread

1

light

package of cream cheese softened or whipped butter

1/4

lb

smoked salmon slices very thin

1

jar

of capers
Instructions
Roll slices of bread with rolling pin

Cover slices with whipped butter or cream cheese.

Put very thin slices of smoked salmon on top of cream cheese.

At one end put capers and roll bread, starting at the end with the capers.

Wrap tightly with foil or waxed paper. Chill for 1 hour or more.

Remove foil just before serving and slice into thin rolls.

This Healthy Recipe will delight your company, and please note, there are a variety of mixtures to use as sandwich fillers, even for these roll-ups.
Ideas for Pinwheel Sandwich Fillers:
Egg Salad Filling
Mix chopped hard-boiled eggs with light Miracle Whip, dash of salt and freshly ground pepper, chopped chives (1 tsp) per egg and chopped dill pickle.
Chicken Salad Filling:
Mix chopped chicken breast with light Miracle Whip, dash of salt, freshly ground pepper, and chopped romaine lettuce that is crisp and fresh.
Tuna Surprise
Mix 1 can tuna with light Miracle Whip, dash of sea salt, freshly ground pepper, chopped romaine lettuce, chopped gherkins.
Crab or Shrimp Filling
Mix 8 oz shrimp or crab meat in with light Miracle Whip, dash of sea salt, freshly ground pepper; add fresh chilled chopped romaine lettuce and lay on the bread after it has been spread with butter or cream cheese.

Cream cheese offers many flavored and healthy herb selection that variations are endless. Tantalize your taste buds and try something new.
Rolled Sandwiches
Use fresh bread once again, cutting crusts off, then add light cream cheese filling, place piece of cooked asparagus or celery on one end and roll up tightly, wrap and chill for 1 hour. Serve as is.
Ribbon Sandwiches
Spread 2 slices of bread, one whole wheat brown and one whole wheat lighter bread, spreading your favorite mix on one piece; add the next piece and place another of your favorite sandwich mixes; then top with light cream spread.

Wrap in foil or tightly in wax paper and chill for 1 hour. Just prior to serving, cut sandwiches into thirds, triangles and halves or slice the ribbon sandwich into 1-inch ribbon lengths.
Cold Meat Sandwiches
Use slices of cold chicken, turkey, veal, cheese, lettuce and tomatoes or slices of thin red pepper for your insides of your sandwiches.

Healthy Recipes always recommends that you use a whole wheat or gluten free bread if you cannot tolerate wheat.

Brown whole wheat, oat, flax, spelt, just to name a few, are the healthiest for your body by providing nutrition to our bodies. White bread has no nutritional value to your body.