SBcanning recommends the egg mixture which contains protein, vegetables and light cheese, and provides plenty of vitamins be used as a lunch, brunch, breakfast or dinner recipe, as it contains all the necessary requirements for a full meal content. This is providing you use a Nutri-blend flour or whole wheat flour.
The great thing about quiche is that it can be made with or without the pastry. Pastry contains either vegetable shortening , butter or lard. I choose butter, bearing in mind that I would count this fat content for my daily allowance.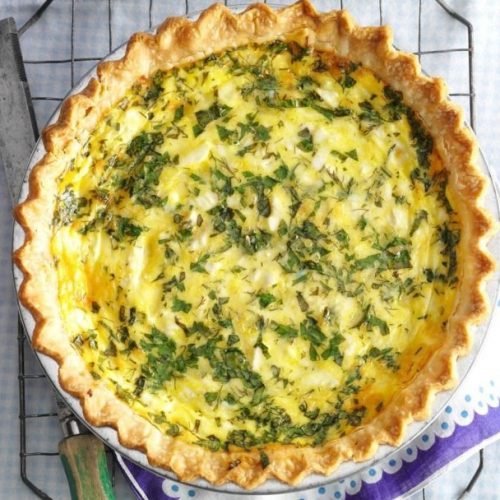 Healthy herb quiche
Quiche is essentially a pastry shell filled with a savory egg mixture and cooked in the oven.
Ingredients
This is my favorite Herb Quiche, with pastry recipe included as well:
1

Butter

Pastry

1 1/2

cups

Nutri-flour

3

ounces

cold butter

1

egg

yolk
Quiche mixture
2

tbsp

chopped chives

2

tbsp

chopped parsley

1/2

cup

light cream cheese softened

1/2

cup

1% milk

1/2

cup

shredded provolone

1

Freshly

ground pepper
Instructions
Sift flour into medium-size bowl.

Add butter into flour creating small fine balls using a pastry blender.

Add egg mixture and mix until the flour and egg sticks together. Add a little water if necessary the mixture turns into a ball.

Place in refrigerator to chill for 15 minutes.

Remove from refrigerator and place on floured surface.

Using a rolling pin, roll pastry out until it is big enough to fill your quiche pan (including the sides).

Next is a secret cook's trick: place wax paper on pastry shell and fill pastry shell with enough dried beans (you can use dried rice as well) for 10 - 15 minutes until pastry is light golden brown.

Remove quiche pan from oven, and remove beans and wax paper. Set aside to cool while you make quiche mixture.
Quiche mixture
Red pepper cut in rings (4 -6 rings) to garnish

Add 1/2 cup 1% milk and 1/2 cup softened cream cheese and mix until smooth.

Add egg mixture to milk and cream cheese blending until smooth.

Pour mixture into quiche pastry shell and garnish with red pepper rings.

Bake at 350F for 45 minutes, or until the center springs back lightly.

SBcanning favors this Quiche with or without the pastry. It takes a little time to make, but with the provolone, fresh herbs and red pepper - his healthy quiche has excellent flavor.