This simple Navy Bean Soup was another of her favorites and mine as well.
Beans are rich in protein, dietary fiber, complex carbohydrates and low in fat. Beans should be an essential part of our diet, whether canned or the variety that need to soak overnight.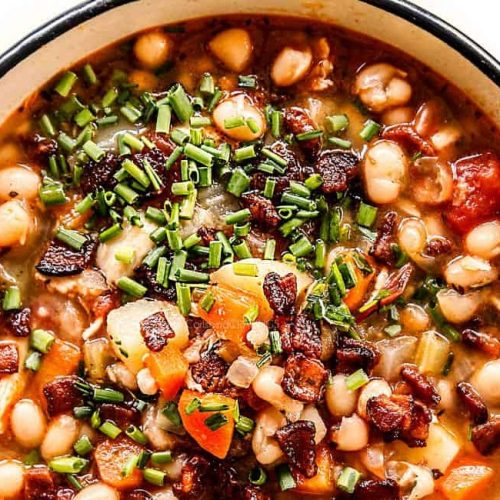 Navy bean soup
Navy Bean Soup is simple to make, nutritious and tastes simply marvelous.
Ingredients
1

ham

bone

1

Stock

from ham bone

1 1/2

cup

chopped onions

1

bay

leaf

1

Summer

Savory to taste
Instructions
Boil ham bone for two hours at least for stock for soup, in 8 cups water.

Soak white dried Navy Beans in water overnight.

Drain Navy Beans and add to soup stock.

Add one bay leaf to stock.

Add one cup chopped onions.

Add Summer Savory to taste (fresh is always best).

Simmer all ingredients slowly for approximately 5 hours.

Healthy Recipe serves six.