SBcanning always recommends that you use the best organically grown beef that you can possibly find for obvious reasons. Anti-biotics put in the cattles' feed is the worst possible thing a for a human body. So check out your local meat company and be certain your meat is organic.
Grandma Annie always used a beef bone for extra flavor; it is not that common but it did the trick. My Dad made the most incredible soups and stews when I was little. So, I have carried the tradition on.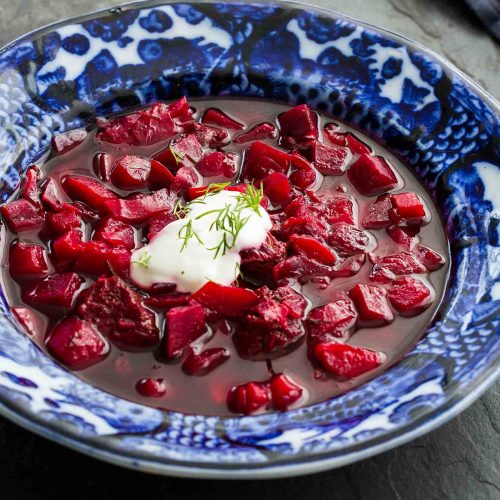 Borcht
My Dad always said, "A soup is not a soup unless it had a bay leave in it", and he was right.
Ingredients
1

beef

bone

3/4 - 1

lb

chopped, cubed beef (about 1 inch square)

2

Bay

leaves

1

cup

chopped onion

2

cups

chopped Savoy cabbage

1

cup

diced potato

1 32

ounce

can tomatoes

2

tbsp

chopped fresh dill weed

1/2

cup

white vinegar

1

tsp

sea salt
Instructions
In a large Soup pot or a Crockery Pot, cover beef bone with water and add beef, 1 tsp sea salt and 2 broken bay leaves and boil until meat is tender.

Add 2 cups chopped cabbage (Healthy Recipes recommends using Savoy cabbage, as it has more leaves than core).

Add 1 cup chopped onion, 1 cup diced potato, one 32 ounce can of tomatoes, 2 tbsp fresh chopped dill weed.

Boil until vegetables are tender. Add 1/2 cup vinegar to soup.

When ready to serve, add 1/2 can skim Pacific milk or light cream. (This is optional).

Serve in soup bowls with a nice recipe of Baking Powder Biscuits (see under Biscuits in Healthy Recipes).

This Borcht Recipe is simply outstanding and has always been my favorite Grandma's Healthy Recipe!