SBcanning must offer this Traditional Cake that I made for my Dad so many times on his birthdays. It is one dessert that is not eaten that often so just remember portion control.
The filling is a lemon pie filling, which does contain sugar and the outside can be made of whipping cream or meringue.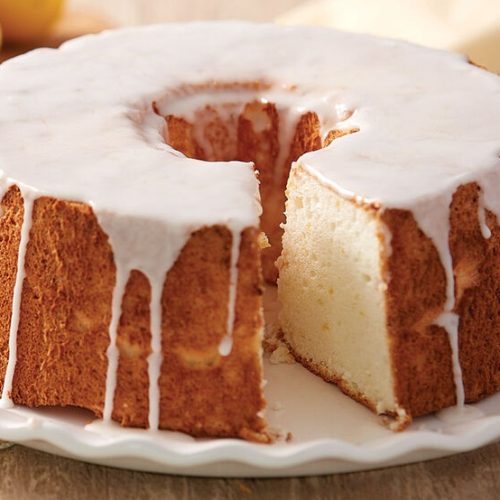 Lemon angel cake
Angel cake is low in calories and fat.
Ingredients
1

Angel

Lemon cake

1

Lemon

pie filling (large)

1/2

litre

of whipping cream

1/4

cup

icing sugar

8

eggs

whites to make meringue
Instructions
Make the Angel Lemon cake as per instructions and pour into tube pan and bake as per instructions on box.

Make the lemon pie filling while the angel cake is cooking, following instructions on package. When pie filling thickens, remove from stove and let cool off, stirring twice and covering in between.

When Angel cake has cooled off, cut the cake into 3 circles. Use the cooled lemon pie filling to fill each layer. Place the cake on a fancy cake dish if you are using whipping cream.

Cream whipping cream using 1/2 cup to 3/4 cup icing sugar, adding until whipping cream has thickened to perfection.

Cover the entire cake with whipping cream. Shred some of the lemon zest and sprinkle all over cake. Garnish around the bottom edges with remainder of the lemon cut in circles and twisted. Voila - cake is ready to serve. It looks incredibly, fresh, wonderful and I am always proud to serve this cake.

Should you wish to use lemon meringue, beat eggs adding a touch of cream of tartar, and until eggs are whipped to shiny perfection. Spread onto entire cake. Preheat oven to 350F degrees, and place cake in oven only long enough to brown the top and sides a tiny bit. Voila - remove and serve.

Most people prefer the whipping cream topping, but if you are being very calorie conscious, yet want this cake, meringue is the answer.

SBcanning serves 8 pieces of this marvelous Angel Lemon Cake.