I love to use just a few drops of honey on my favorite buttermilk biscuit healthy recipe. These fluffy biscuits are only about 80 calories (without the honey) and by using low-fat buttermilk and low-fat, plain yogurt, we have added calcium, very little fat, and approximately 1 mg of cholesterol.
The big secret about these normally fluffy biscuits is: Do not over mix the batter!!
I recommend these healthy buttermilk biscuits for any meal, for a snack or to have for tea, or even for brunch.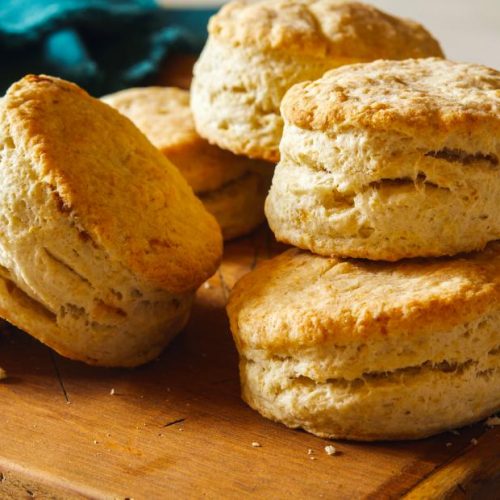 Buttermilk biscuits
Ingredients
1

Olive

oil

1

cup

all purpose or Nutriblend flour

2

tsp

baking powder

1

tsp

sugar

1/8

tsp

baking soda

1/8

tsp

sea salt

1

tbsp

butter

1/3

cup

low-fat buttermilk

¼

cup

non-fat or low-fat plain yogurt

1

Flour

for the surface to cut out biscuits
Instructions
Pre-heat oven to 425F degrees. Wipepan with olive oil.Mix the flour, baking powder, baking soda, sugar and sea salt in a medium size bowl.Using a pastry blender, cut the butter into the flour mixture until it becomes crumbles.

Stir in yogurt and buttermilk into flour mixture with a fork until just moistened.

Place dough onto a lightly floured cutting board. Sprinkle with a small amount of flour and shape dough into a disk.

With a rolling pin, pat out the dough until it is about ½ inch thick.

Cut out biscuits with a 2 ½ inch round cookie cutter.

Use prepared 8-inch round baking

Place buttermilk biscuits in prepared cake pan.

Bake for 10 – 12 minutes until biscuits are cooked in the middle and golden brown on bottoms.

Remove biscuits from pan and place in a tea towel in a serving basket to keep them warm with your favorite soup or stew.