Welsh Cakes have been an all time favorite of both mine and my sister. This recipe is not a low calorie, but to engage in a more nutritious manner, I have now substituted a Nutriblend flour (made by Robinhood Flour) and cut the sugar back from my original recipe. You may also use a vegetable shortening or unsalted butter.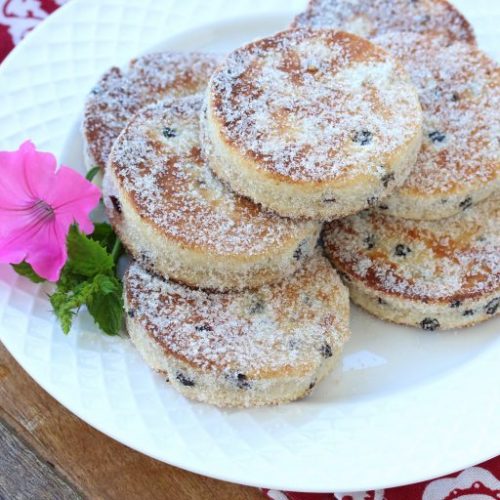 Traditional welsh cakes
These cakes are small so use portion control.
Ingredients
3

cups

Nutri-Blend flour by Robin Hood Flours

1/2

tsp

soda

1/2

cup

sugar

1/4

tsp

mace

3/4

cup

currants (may use raisins instead of currants)

2

beaten

eggs (organic)

6

tbsp

milk

1 1/2

tsp

baking powder

1

tsp

sea salt

1

tsp

nutmeg

1

cup

vegetable shortening or unsalted butter

1/4

cup

fruit peel (optional - orange, lemon)
Instructions
Sift flour, sugar, soda, mace, nutmeg and a dash of sea salt together in a large bowl.

Cut vegetable shortening or unsalted butter into flour mix, until the mixture forms little balls.

Add egg and milk into the large bowl and stir until just mixed. Add currants (or raisins) into the mixture. Then, form the mixture into a dough ball and roll out on a clean floured surface to about 1/2 inch thick.

You may need a little flour to cover your hands while rolling dough. Using a 2″ or 2 1/2″ cookie or biscuit cutter, cut out Welsh Cakes and place on a cookie sheet.

Place on pre-heated Griddle (about 325 degrees). Flip when the underside becomes golden brown and watch carefully. Presto - we are done and we have beautiful traditional Welsh Cakes, lovely for a Brunch or Tea.