Saffron, being the most expensive herbal seasonings, is labor intensive to harvest, and is used sparingly – for flavor and color.
Saffron lasts less than a year in order to retain the flavor. It is recognized by its pungent, warm and bitter flavor plus it's brilliant orange color.
Saffron powder, mixes well into liquids, or it may be added to the flour mixture.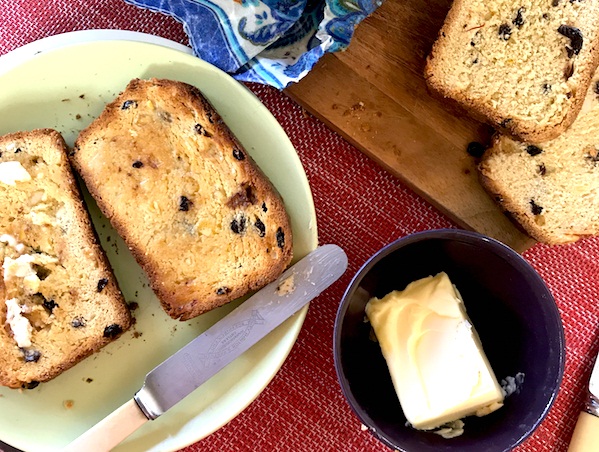 Saffron Fruit Bread
Saffron is harvested, (the individual stamens) crushed and saved in a jar.
Ingredients
1

cup

milk warmed

1

oz

fresh yeast

1

tsp

saffron powder

1/2

cup

boiling water

3 1/2

cups

all purpose flour

4

oz

butter

1/2

cup

superfine sugar

6

oz

currants/raisins

4

oz

chopped peel

1

tsp

dried thyme
Instructions
Place the milk in a bowl and dissolve the yeast and the one teaspoon of sugar in it. Leave in a warm place for about ten minutes until frothy.

Steep the saffron in the boiling water, then leave the mixture to cool.

Sift the flour into a large bowl. Mix in the butter with your fingers. Add the rest of the sugar, currants or raisins, peel and thyme, mixing well.

Add the yeast liquid and saffron liquid to the flour mixture. Mix until smooth with a wooden spoon; it should be a thick batter and you can smell the fragrance of saffron & thyme.

Pour the batter into a greased and lined 10 inch round cake pan. Cover with a damp cloth and leave in a warm place for about one hour until the mixture rises to the top of the tin.

Preheat the oven to 375 degrees F.

Bake the bread for one hour. Leave to cool in the pan. Slice and serve your delicious Saffron Fruit Bread with butter.

This delightful recipe serves 10. Yummy!