A real plus is the pumpkin seeds can be dried off and put on cookie sheet and slowly roasted in the oven at 250F to make a tasty snack or for lunches. The pumpkin seeds contain protein, iron,Vitamin B, Vitamin E and fiber. The pumpkin seeds, once totally roasted and cooled off, can be stored for long periods of time. Another SBcanning's great suggestion!
We know the benefits of cranberries, are Vitamin C, and they are good for the health of the urinary tract. They also contain fiber and there is a wealth of different uses for cranberries which you will find in other Healthy Recipes, here in this site.
Now to make Pumpkin Cranberry Bread!
This recipe makes two loaves.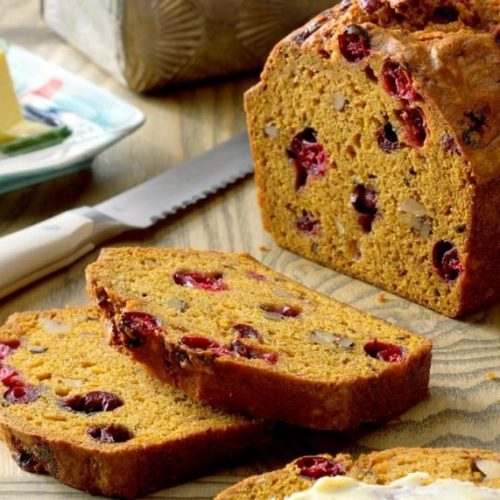 Pumpkin cranberry bread
Pumpkin, which is of the Squash Family, is very nutritious as it is a rich source of beta carotene, a low calorie source of Vitamin C and potassium and is high in fiber.
Ingredients
2 1/4

cups

of whole wheat flour

1

tablespoon

of pumpkin spice

2

teaspoons

baking powder

1/2

tsp

sea salt

2

eggs

(the good kind - organic brown)

1

cup

Splenda (sugar replacement) brown blend

1

cup

molasses

1 3/4

cups

(15 oz can pumpkin)

1/2

cup

safflower or olive oil

1

cup

frozen or unsweetened dried cranberries
Instructions
Combine whole wheat flour, ice, baking powder, pumpkin pie, spice, and sea salt in a large mixing bowl. Combine eggs, sugar, molasses, pumpkin and safflower oil and mix until just moistened.

Fold in cranberries. Spoon batter into 2 greased (use safflower oil) and floured 9 x 5 inch loaf pans.

Bake in preheated oven at 350 F for 55 - 60 minutes until pricked with a toothpick and it comes out clean.

Cool in pans for 5 to 10 minutes, remove to wire racks to cool completely.