A loaf of bread just takes too long to make. So, you may think, why bother? SBcanning has the answer for you! Irish Soda Bread is healthy, uses whole wheat flour, buttermilk, which creates a dense, moist bread and fits very nicely into a healthy diet!
Now for the Master Recipe!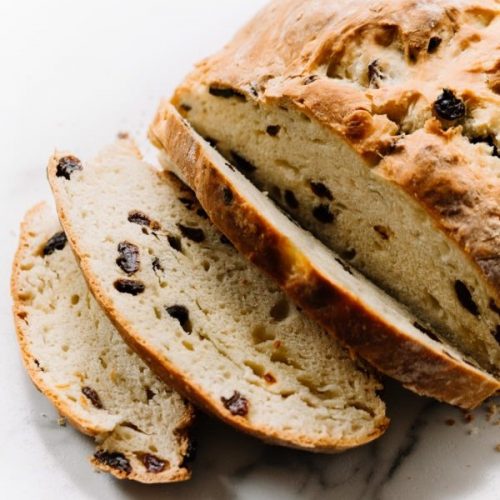 Irish soda bread
Irish Soda Bread can be made with variations as well - one with honey and fruit and one with cheese and onion.
Ingredients
2

cups

Nutriblend flour

1

cup

Whole Wheat flour

2

tbsp

flax seeds (or sesame seeds)

2

tbsp

granulated sugar

1

tsp

baking soda

1

tsp

sea salt

1 1/2

cups

buttermilk
TOPPING:
1

tbsp

Nutriblend flour (or all-purpose)
Instructions
In a large bowl, whisk together Nutriblend flour, whole wheat flour, flax seeds, sugar, baking soda and sea salt.

In a small bowl, whisk together buttermilk and olive oil.

Add to large bowl of dry ingredients all at once and stir with a fork until a soft dough forms.

On a lightly floured surface, with floured hands, press dough into a ball, kneading slightly 10 times. Place on greased baking sheet, gently patting out dough into about a 6-inch circle.

Sprinkle the flour over the the round loaf, and score with a large X on top of the loaf.

Bake in center of oven at 375 F for about 45 minutes or until golden color. Test the center of the loaf and when it comes out clean, presto - you are done!

This wonderful healthy recipe makes 8 servings.
PS: VARIATIONS OF IRISH SODA BREAD:
HONEY APRICOT SODA BREAD
Instead of sugar and flax seeds, increase the nutriflour or all purpose flour to 2 1/4 cups. Add 1/2 cup of chopped dried apricots and 1/2 cup raisins to dry ingredients. Then add 1/3 cup of liquid honey to liquid ingredients and stir well.
Mix 1/2 cup of icing sugar and 2 tbsp orange juice, drizzling over loaf after the loaf comes out of the oven and sits for 15 or 20 minutes.
CHEESE AND ONION SODA BREAD
Instead of flax seeds and topping, add 1 cup shredded light old cheddar cheese, 1/4 cup chopped green onions to the liquid mixture and a dash of cayenne pepper to the dry ingredients.
SBcanning recommends you try this recipe as it is a 'no fail' recipe, and once you try it, we are certain it will become a mainstay in your meal creations. Irish Soda Bread may be used for Breakfast, Brunches, Lunches or Dinners because of its versatility. Enjoy!