Try it for yourself, and see if you agree. The ingredients below use a medium size pot for a small family. If you're family is large, use a large pot and increase the ingredients listed below accordingly.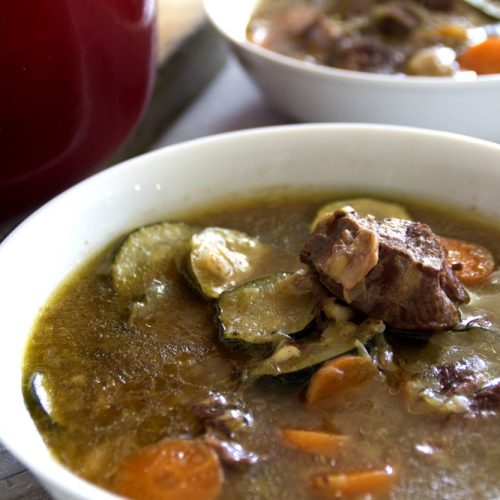 Shin bone soup
This soup is a breeze to make, and like all soups it's a welcome addition to the family meal on a frigid winter night.
Ingredients
1

center

cut shin bone

2

carrots

sliced in chunks

1

cup

of frozen peas, use fresh if you wish

2

celery

stalks, sliced in chunks

1

pc

medium to large onion, peel, wash and add whole

4

cloves

of garlic

just mash each a bit with the flat of a knife to make them easier to remove after cooking, if you don't wish to eat them.

8

oz.

of Hunt's tomatoe sauce

1-2

tbsp

Salt and Pepper to taste
Instructions
Fill pot to 3/4's full. Add shin bone, onion, garlic, tomatoe sauce and simmer till shin bone is partially cooked, close to a 1/2 hour.

Add carrots, celery and cook until they've reached the tenderness/crispness that you prefer them.

Remove the shin bone, and cut into bite size pieces, and return to the pan.

Return the bone to the pan as well. The marrow in the bone is delicious, especially if it isn't too fatty.

Some people love it, some prefer not to eat it.

Go by our own tastes. In the last five or six minutes of cooking time add the frozen peas. The pkg. will tell you the exact time they need to cook.

In the meantime, in a separate pot you've cooked the bows/noodles. Add these to the bottom of soup bowls, then add the soup.
TIPS:
Crusty bread is great served with this

This soup can either be the appetizer before your meal, or the whole of your meal.