What could be more satisfying than a bowl of Minestrone soup with crusty garlic bread, when you arrive home on a freezing blustery day? Sitting down with your family at the kitchen table, warm and cozy, having left the frigid air outside.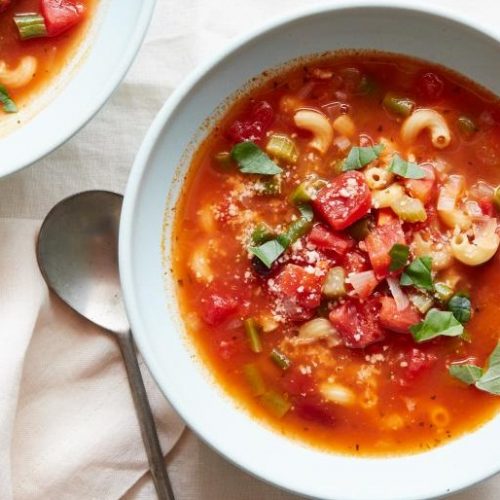 Minestrone soup
This recipe is easy to prepare, and I know your family will thank you when you serve them
Ingredients
1

center

cut beef shin bone

2

large

potatoes, cut into bite size pieces, and one large one for the pot

3

carrots

sliced

1/4

of

a head of cabbage, shredded

5 or 6

pc

escarole leaves, torn 

1

large

onion, sliced thin 

4

cloves

of garlic

1

tspn.

of basil

1-8

oz.

can of tomato sauce

1 or 2

boneless

skinless thighs per person 

8

ozs.

frozen peas

1

large

Stewart's shelled beans

1

water

to fill the large pot to 3/4s full

(Enough water)

1

tbsp

Salt and Pepper to taste
Instructions
Just cover the bottom of the pot with Olive oil.

Add the onion, and the garlic, saute for a couple of minutes until the onions are transparent.

Now add about a teaspoon of basil, and simmer for a couple more minutes.

Next add the shin bone, and brown on both sides.

Add the carrots, and potatoes.

Now add the tomato sauce, and then add the water.

After a half an hour add the celery.

Simmer the soup for about forty-five minutes, and then remove the shin bone.

Cut it into bite size pieces, and return it to the soup.

Mash the one large potato and return to the pot, and stir.

Add the cabbage, and soon after, add peas and cut green beans, if you'd like

Continue cooking for about another fifteen minutes. During last five minutes, add the can of Stewart's Shelled Beans. Serve.
TIPS:
If you prefer, you can omit the beef

If you'd like you can cook some small bows, and add to individual serving bowls.

This is one of those meals that actually thickens when it sits in the fridge overnight.