Two or three years ago I checked online for a cake recipe I could make as healthy as possible. Basically I was just looking for proper measurements between dry ingredients and moist.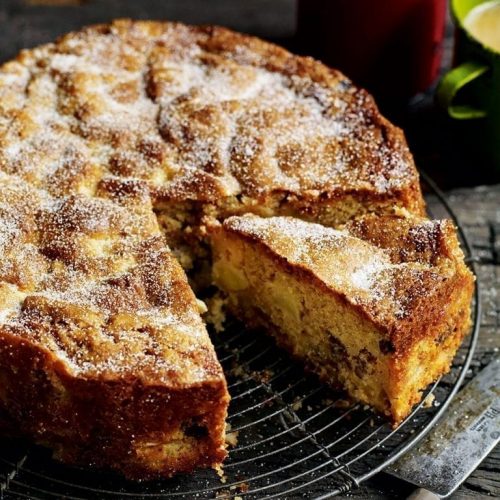 Apple raisin cake
I found a recipe that provided my needs, and I changed it to fit what I wanted to create.
Ingredients
2

large

apples, or 3 small apples, peeled, and diced

1

cup

of dark brown sugar, divided in two parts

2

cups

sifted Spelt flour

1

tspn.

of baking powder

1

tspn

salt

1

tblspn

of cinnamon

1

cup

of oatmeal

1/2

cup

of seedless raisins

1/2

cup

of chopped walnuts

2

eggs

beaten with a fork

2

tblspns

of butter

1/4

cup

of oil
Instructions
Combine the diced apples, 1/2 cup brown sugar, and raisins in a small sauce pan, and just cover these ingredients with water. Cook for about five minutes. Remove from stove, and add two tblsps butter to melt. Set aside to cool while mixing the rest of the ingredients after adding the butter to melt while it's still hot.

Combine the flour, baking powder, baking soda, salt, cinnamon, oatmeal, and walnuts. Stir in the cooled apple/raisin mixture, remaining brown sugar, oil, and eggs. Mix everything together until just moistened. Bake in a 10 inch bundt pan for about 40 minutes at 350 degrees.

Cool for about ten minutes before removing from pan. The cake may be served warm or cold. You can sprinkle cake with powdered sugar while still warm, or pour a caramel frosting over it. The frosting from the Queen Elizabeth cake within these pages would be delicious with this cake.
TIPS:
Spelt is a whole grain flour which is delicious in all sweet baked dessert foods. You can purchase it in health food stores as well as several supermarkets.

If you'd like, you may add about 1/4 of a cup of toasted wheat germ when preparing the dry ingredients. This would add additional fiber, potassium, vitamin E and folic acid to the cake, if you're in to adding good nutrition.